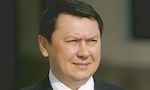 Portuguese MEP Ana Gomes has called on the European Commission to involve Eurojust and Europol in a Europe-wide investigation into Rakhat Aliyev, a Kazakhstani multi-millionaire residing in Malta.
"Rakhat Aliyev, the former Ambassador of the Republic of Kazakhstan in Austria and Kazakhstan's former Deputy Foreign Minister, is being investigated by the authorities in Austria, Germany and Malta in connection with allegations of serious white collar crimes. The Austrian authorities are also investigating other serious accusations against Mr Aliyev, which include abduction and murder," Ms Gomes says in the EPQ.
Ms Gomes argues that given the extent of the accusations levelled against Mr Alijev in a number of member states, the EU should also step in.
"Based on the information available, the scale of the white collar crimes of which Mr Aliyev is accused means that this is a matter for the EU, as well as for the national authorities. Legal proceedings which have been ongoing for a number of years at national level could already have been completed and brought to court by now," Ms Gomes said.
Ms Gomes also asked if the Commission is monitoring the current status of national investigations against Mr Aliyev.
The allegations against the Kazakh national do not stop at white-collar crime. Two former Kazakh bodyguards are also seeking justice in Malta, claiming that they were falsely accused of organising a coup and tortured in Kazakhstan by Mr Alijev.
Former Police Commissioner John Rizzo refused to investigate the case in 2012, on the grounds that the Maltese Police have no jurisdiction over the matter.
A new criminal complaint to Police Commissioner Peter Paul Zammit was filed in May 2013.
Mr Aliyev has since applied for citizenship in Cyprus.
www.independent.com.mt