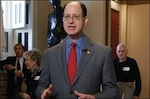 Maltese court says police has jurisdiction to investigate torture allegations against Kazakh exile living in Malta. A United States congressman has asked the European Commission to investigate "serious allegations" of human rights abuses made against Rakhat Aliyev, a former Kazakh diplomat who now resides in Malta.
The Maltese courts this week said the police had no jurisdiction to investigate Aliyev on allegations that in 2000 he tortured the bodyguards of a former Kazakh prime minister, to force a confession that Akezhan Kazhegeldin was planning a coup against Kazakhstan president Nursultan Nazarbayev, then his father-in-law.
Aliyev is now divorced from Nazarbayev's daughter, after being sentenced in 2008 by a Kazakhstan court to 20 years' imprisonment for the crime of murder, and stripped of his diplomatic immunity. He was at the time ambassador to the OSCE in Vienna.
The Maltese court said Aliyev enjoys the right of free movement in Malta, being married to Austrian national Elnara Shorazova, and threw out a challenge to the Commissioner of Police by Kazhegeldin and his bodyguards.
In a letter to European Commissioner for justice Viviane Reding, and German MEP Klaus-Heiner Leine, chairman of the European Parliament's legal affairs committee, Democrat congressman Brad Sherman called for a thorough investigation by EU agencies and the Maltese authorities into the alleged crimes committed by Aliyev.
Sherman, a senior member of the House Foreign Affairs Committee, told Reding in the letter that Aliyev was accused of committing acts of torture during his tenure as deputy head of Kazakhstan's secret service.
"Among the most serious allegations against Aliyev are charges put forward by Satzahn Ibrayev and Petr Afanasenko, bodyguards for Kazhegeldin, contending that Aliyev tortured them in order to induce them to falsely implicate their boss in a coup against the Kazakh president in 1998-99.
"There are also allegations against Aliyev made in various jurisdictions of the EU, which include money laundering and murder. I have no way of judging the veracity of the allegations, however as a member of the House Foreign Affairs Committee, I believed these serious allegations should be examined."
Aliyev, 50, represents one side of the Kazakh family feud that has lobbyists and lawyers in the USA and Europe chasing the multi-millionaire over claims of human rights abuses and money laundering.
The former democratically-elected prime minister of East Germany, Lothar de Maizière, this week met several government ministers to bring to attention the need to have Aliyev's alleged crimes investigated by Maltese police. He represents the interests of Akezhan Kazhegeldin.
De Maizière claims it is "scandalous and extremely unjust" that Aliyev was allowed residence in Malta after leaving Austria, where he was an ambassador for Kazakhstan before being stripped of diplomatic immunity, and that the Maltese police have refused to investigate the alleged crimes.
MaltaToday uncovered Aliyev's move to Malta when his former lawyer, Pio Valletta, filed a €1.5 million claim in court to be paid for his legal services. It is understood that Shorazova was encouraged by Valletta, a director in Fort Cambridge plc, to buy one of the company's apartments in Tigné, so that the Aliyev couple could acquire permanent residence status on the island.
Aliyev is also being chased by allies of his nemesis Nursultan Nazarbayev. Austrian lawyers Gabriel Lansky Partner represent the interests of the widows of two bankers Aliyev is accused of having murdered.
The Financial Intelligence Analysis Unit has been furnished with confidential information of how Aliyev's money was moved to Malta and then to the tax haven of Saint Kitts and Nevis.
Additionally, the Viennese prosecutor has already commenced criminal investigations on the allegation that Aliyev commissioned the murder of the Nurbank bankers, and last year interviewed Aliyev in the Maltese courts. But Austria had refused to extradite Aliyev to Kazakhstan, where he would not be guaranteed a fair trial.
www.maltatoday.com.mt