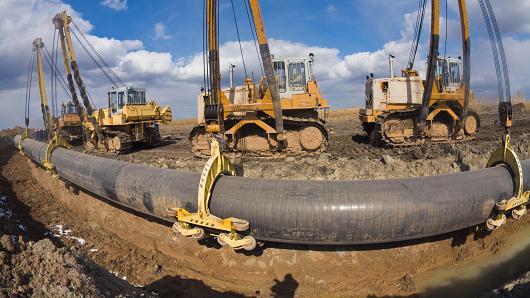 When the general American public thinks about Kazakhstan, Sacha Baron Cohen's "Borat" character probably comes to mind. But is Borat, at least in the figurative sense, dead? Organizations behind an effort to lure more investment to the Central Asian country think so. But Kazakhstan may have a grander regional strategy in mind beyond just attracting Western investment.
In an effort to encourage investment with "strategic partners"—namely the United States—President Nursultan Nazarbayev signed a new law on June 12 lifting visa restrictions, enacting tax exemptions and stabilizing tax rates to try to attract foreign direct investment. It's a rare action by a head of state in the oil-rich nation, which was once part of the Soviet Union.

The United States is also eager to strengthen its ties with Kazakhstan when it comes to the energy sector. Deputy Secretary of Energy Daniel Poneman recently met with Kazakh officials in late June, affirming America's commitment to work with Kazakhstan when it comes to oil and gas, nuclear safety and energy efficiency.

But Kazakhstan is not putting its eggs in just one American basket.

At the end of May, Kazakhstan decided to join Russia's Eurasian Economic Union, a pet project of Russian President Vladimir Putin that he had hoped would put Russia at the center of a trade bloc that could stand as a counterweight to the European Union and United States.

As it has turned out, only Kazakhstan and Belarus have joined the Eurasian Economic Union. Other countries—most notably Ukraine—have shown a greater desire to strengthen ties to the West.

The Kazakhs "are making themselves the middlemen and creating a bridge between Russia and the U.S.", said Edward Mermelstein, an attorney who works as an adviser on cross-border investments in the former Soviet Union. "In a sense, becoming the Switzerland of the former Soviet Union."

Kazakhstan is closely linked with the Russian economy and depends on routes through Russia to tap into international markets; however, former U.S. Ambassador to Kazakhstan William Courtney said he does not believe closer ties to Russia will benefit Kazakhstan.
"Membership in the Eurasian Economic Union will harm Kazakhstan's economy, and this has caused anxiety in Kazakhstan," Courtney told CNBC. "Of greater worry is Russian aggression in Ukraine, allegedly to protect ethnic Russians there. And several million ethnic Russians live in Kazakhstan."
Courtney told CNBC that Kazakhstan currently has the best climate in Central Asia for doing business and attracting energy investment.
"International sanctions on Russia and Iran make Kazakhstan a relatively more attractive option for energy investors," Courtney said.
Mermelstein said his firm, Rheem, Bell and Mermelstein, is working with major American funds and investment banking institutions that are eager to learn more about investing in Kazakhstan.

But certainly, Kazakhstan is not immune from regional problems.
Mermelstein said the main concern with putting money into Kazakhstan centers around whether the regional instability associated with the Ukraine-Russia conflict would significantly impact the Kazakh economy if there were a military escalation.
One company that handles investments in Kazakhstan is U.S.-based Alfa Consulting Group. It has been involved in more than $300 million in investments, including transactions that started in 2014 and some that will close next year, according to its vice president Aiya Tulemaganbatova. Though most of the money is going into the United States, she said she expects the investment flows to equalize within three years.
Alfa's U.S.-based ventures are primarily focused on commercial real estate, but its investments in Kazakhstan are spread across several sectors.
By CNBC's Dina Gusovsky