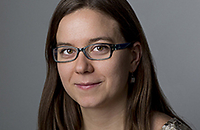 In Kazakhstan, doing your job can come at great personal cost – especially for those who openly question and criticize government authorities and leaders. In recent years, journalists, labor activists, lawyers, and opposition figures have all been targeted by authorities. I was reminded of this in the last few days, as a lawyer was involuntarily put into a psychiatric clinic (again) and a journalist was temporarily detained and roughed up by police in Almaty.
On July 2, authorities in Balkhash, a town in central southeast Kazakhstan, put Zinaida Mukhortova, a lawyer, back into forced psychiatric detention.
Mukhortova has been repeatedly held in psychiatric institutions against her will after she sent a letter in 2009 addressed to Kazakhstan president Nursultan Nazarbaev about a member of parliament from his ruling party interfering in a civil case in which she was involved. Last year in August, for example, she was put into a psychiatric clinic, in violation of her right to liberty and security.
After Mukhortova was released in early November and an appeals court upheld the decision to hospitalize her in December, she stayed away from her hometown because she was concerned she might be involuntarily re-hospitalized, her lawyer told me.
In the meantime, Mukhortova continued to contest the court's decision to forcibly admit her to a psychiatric hospital, claiming it was unlawful. But Kazakhstan's Supreme Court upheld the ruling in May 2014.
In late June, driven by a desire to see her grandchildren, Mukhortova took the risk of returning home. On the third day of her visit, several men – believed to be plainclothes police officers – entered her home and forcibly took her to the psychiatric clinic, where she remains today.
In an unrelated incident, on the night of July 7, Andrei Tsukanov, a journalist with the opposition video portal 16/12, was detained by police while collecting footage for a report on police response to women offering short-term apartment rentals on one of Almaty's main streets. Tsukanov told me a police officer aggressively told him to stop filming and insulted him, even though he was doing nothing illegal. After a little while, police officers detained him and doing so, grabbed him by the neck, choking him, he said. The police detained several of the women as well, injuring one of them in the process.
At the police station, the same officer who had approached Tsukanov on the street pulled Tsukanov aside, slapped him in the face several times, spat at him, and threatened him again. Several hours later, Tsukanov was released.
Carrying out routine activities as a lawyer or a journalist – or civil society activist or member of the opposition – should never come at the cost of one's liberty or personal security. Authorities in Kazakhstan should take note
HRW.ORG