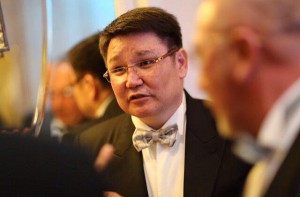 Kazakh Ambassador Extraordinary and Plenipotentiary to Hungary Nurbakh Rustemov recently discussed Kazakhstan's relationship with that nation, focusing on reviving cultural and promoting economic ties. Hungary recently erected a monument to Kazakhstan's beloved intellectual, Abai, joining monuments in Moscow, Istanbul, Beijing, Tashkent, Tehran and other cities.
"Hungary is a powerful industrial nation with a rapidly and intensely growing economy," the ambassador said. "Kazakhstan is its third largest trade partner in the CIS (Commonwealth of Independent States) after Russia and Ukraine. However, we try not to confine ourselves to mere political, economic, trade and social, humanitarian cooperation with Hungary. Our goal is to also attach high importance to literary and cultural ties and to deepen mutual respect based on our common roots."
"Besides, today is the time to prove oneself not by power but by deed. Now is the zenith of 'soft power' policy. ... [T]oday, what finds its way to people's hearts is public diplomacy, human diplomacy and academic diplomacy rather than official diplomacy. ... Needless to say, today we have a great many things we are proud to have represent Kazakhstan to the rest of the world. Swiftly bursting into blossom, marvellous Astana has already turned into the symbol of our admirable independence, exceptional courage and eternal nationhood. Since our independence, the world has begun to know Abai better. ... Our spirit will no doubt be high as long as these two special symbols of the Kazakh nation stand in Hungary, at the centre of Europe."
How did Hungarians receive the opening of Astana Street and of the monument to Abai?
Hungarians... gladly welcomed the event that brings closer the distant and makes the stranger a relative. The common people, intellectuals and authorities alike conveyed their good wishes, saying that the thousand-year gap between our nations had now become smaller. ... Such an event is special, for it opens new ways for strategically unique advancement as it cheers both nations up and strengthens mutual relations. Through Hungary, we will be in direct communication with Europe and will improve our cooperation with ... the European Union. In return, Hungary will have access to a stable connection with the East via our country.
I would like to avail myself of this opportunity to thank East Kazakhstan Region Akim (Governor) Berdibek Saparbayev for his considerable contribution to the erection of this monument to Abai.
Let's talk about trade and economic relations. Recently, a delegation headed by our prime minister [Karim Massimov] paid an official visit to Hungary. Together with the Hungarian officials, they are reported to have discussed a number of important issues. Would you please elaborate on that? What are some priority areas in the relationship between the two countries in the coming years?
In terms of the size of its economy and population, Hungary isn't among Europe's giants, such as the U.K., France, Germany, Italy and Spain. However, it is one of the Central European countries with a stable economy and huge industrial potential; an example to follow in such areas as road construction and vehicle assembly, agricultural and medical production. Kazakhstan is interested in importing medicine and medical equipment from Hungary. Hungary intends to invest in Kazakhstan's oil and gas industry as well as in the agricultural sector. Hungarian MOL [Hungary's oil and gas public limited company] is already engaged in oil and gas production in West Kazakhstan. A Hungarian trade house opened in Astana. Both countries' Chambers of Commerce as well as the Kazakh-Hungarian Business Council are currently functioning successfully, and the activity of these organisations is coordinated by both countries' intergovernmental economic cooperation commission. ... During his recent visit to Hungary, head of government Karim Massimov named agriculture as a priority area for Hungarian investment and said, "We are among the leaders in grain and flour production, and have great potential in animal breeding and dairy products." I believe this visit will give a new momentum to economic cooperation between our countries.
In your view, which sectors are most interesting to Hungarian investors?
Hungarian businessmen are prepared to be involved in government projects in Kazakhstan, including participating in investment projects. The country is interested in cooperation with Kazakhstan in the development of agriculture and the processing industry by means of technology transfer and attracting international financial institutions and Hungarian banks. ... Agricultural businessmen and farmers in Kazakhstan are highly interested in implementing Hungary's best practices of optimisation and automation of agricultural complexes. As such, both parties' needs fit together perfectly.
As evidence, a $100 million investment and technology transfer agreement was signed by (and between) Alibi LLP (Kazakhstan) and Tranzit-Ker Zrt (Hungary) during Massimov's visit to Hungary.
What was also mentioned during that visit is the lack of a direct air connection from Kazakhstan to ... Budapest. The number of people in Kazakhstan visiting famous resorts and health and leisure centres in Hungary has been growing over recent years. With this in mind, we feel a growing necessity to open a direct transport link between the two countries. Currently, we are awaiting the outcome of governmental talks between the countries regarding such an air connection.
We cannot but mention scientist Mándoki Kongur István when we talk about the Magyars. His remains were laid in Kazakhstan, in the Kensai cemetery. What do the Magyars think about this?
A genuine patriot of the Kazakh people, an advocate for the Turkic nations, Mándoki Kongur István is held by the Magyars in utmost respect. This Turcologist, who dedicated his life to the study of the ancient history of the great steppe and the blood connection between his people and the Kazakhs, remains forever in the land of the ancestors he used to speak about so much. ... He enormously expanded the horizon of Turkic studies by relentlessly tracking down historical and cultural ties among the Turkic nations in Europe and studying the Cumans-Kipchaks [a federation of Turkic peoples that at one point spread from modern-day Kazakhstan to Hungary]. His contribution to the translation, study and popularisation of the folklore and literature of Turkic nations sharing common roots is simply tremendous. ... He demonstrated true courage by proceeding to investigate our affinities in turbulent times, demonstrating his patriotism. He was a pioneer who quenched seven and a half centuries of longing of the Kipchaks, who long ago settled all over Europe, for their motherland. He was able to cheer up the Kazakh people at the moment of obtaining their independence, a worrisome time. ... [T]here are 16,000 volumes of his rare books and manuscripts. The time is near at hand when these valuable works of Kongur shall be delivered to Kazakhstan's capital, Astana, in accordance with the head of the Turkic Academy's recent official visit to Budapest and agreements reached there. This surely means that it's time for those studying Kongur István's work to head to Astana.
Many Hungarians consider Kazakhs to be their relatives. While ambassador, have you noticed any qualities that belong to both nations?
Of course.In spite of 7-8 centuries of separation and fusion with a lot of other nations, we still have many things in common with the Hungarian Kipchaks. For example, some words in Hungarian are very similar to ours; virtually the same. Along those lines, many tales [and] proverbs in folk literature, especially in the ancient Kipchak language, are almost the same as ours, save for minor variations. This has been studied and published by our scholars. The Hungarians are very family-oriented, patriotic, respectful of elders, caring of the younger. This aligns with our Kazakh sacred customs and traditions. One more thing: for some time now, the Kipchaks in Hungary have been really eager to know their origins, to study their ties with the Eurasian steppes, to accept themselves as Kipchaks. The now world-famous Turan Congress that brings together hundreds and thousands of people every year only proves this further. And their eagerness to visit the land of their forefathers and to know the Kazakhs is growing. ...
Comparing today's Hungarians and Kazakhs, I find resemblances in their nature and temperament. For instance, Hungarians are a horse-loving nation, called the 'dashing riders.' ... Family is regarded as the core value in life; elderly family members bring up their grandchildren. If successful in making friends and when getting to know each other better, they disclose all of their personal secrets, just like us. And they openly ask personal questions. They take off their shoes at the door, just like Kazakhs. They amplify their views using stories and examples. They hate reserved, overly cautious, buttoned-up people.
What advice would you give to your younger countrymen hoping to become diplomats?
It would be most favourable for diplomats to absorb the diplomatic traditions of both the ancient East and West. In the East, honouring the envoy and collecting as much discreet and precise information as possible has played a very important historical role. How many wars have been triggered and how many cities and towns destroyed because of harm to or by an ambassador? And how many compromises have been reached and how many dynasties connected through the wisdom and ploys of ambassadors? ... It is a must for a Kazakh diplomat to master both the Eastern delicate human aspect and the Western pragmatic facet of diplomacy.
Look at post-Soviet history – how many countries managed to preserve friendships with their neighbours and avoid major internal armed conflict, like Kazakhstan? This is why I believe that all Kazakh diplomats, whether serving abroad or yet to come, should make this rare aspect of their home country known around the world and spread its light wherever they are.
The Astana Times