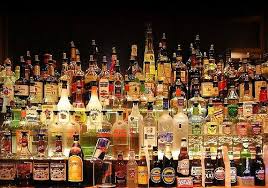 Hard-drinking Kazakhstan is moving to curb alcohol abuse by extending a ban on late-night alcohol sales. The new bill banning retail sales between 9 p.m. and noon was signed into law by President Nursultan Nazarbayev on June 18. The rules extend an existing late-night ban on alcohol sales (including beer) and will hit retail outlets which do a roaring trade in late-night booze sales. Restaurants, bars, and nightclubs will not be affected.
The law also bans alcohol sales altogether at filling stations as well as education and health institutions, but moves by parliamentarians to ban sales at markets and stadiums as well failed.
Kazakhstan raised the legal drinking age from 18 to 21 in 2009. The new bill doubles fines for selling liquor to under 21s to a maximum of $1,200 (with the revocation of an offender's license to sell alcohol).
The government says the bill is aimed at curbing excessive alcohol consumption, for which Kazakhstan rates 34th worldwide, according to a World Health Organization survey of 188 countries released in May.
Each person in Kazakhstan aged over 15 imbibes on average 11.3 liters of alcohol a year, almost double the global average of 6.2 liters, the report said—although the government has questioned the WHO's methodology.
The report found the prevalence of "heavy episodic drinking" (defined as consuming at least 60 grams or more of pure alcohol on at least one occasion in the past 30 days) to be 7.8 percent in Kazakhstan. Among drinking males the prevalence stood at 30 percent. Some 8.9 percent of males and 1.9 percent of females have drinking disorders in Kazakhstan, according to the report.
The WHO singles out Kazakhstan as one of 11 countries with the "most risky patterns" of drinking.
Neighboring Russia also falls in this category. Although Moscow enacted legislation tightening up alcohol sales in 2012, that does not seem to have curbed the Russians' taste for a drop of the hard stuff: They are the world's fourth biggest boozers, according to the WHO report, beaten only by fellow post-Soviet republics Belarus, Moldova, and Lithuania.
EurasiaNet.org