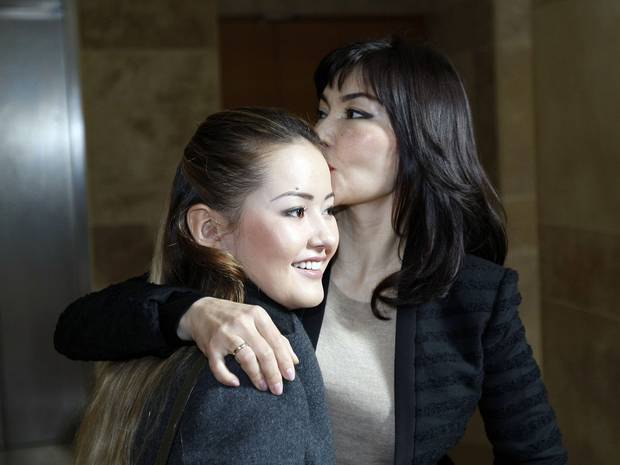 The former Kazakh bank chairman was once one of the world's richest men, is now the subject of the biggest UK fraud case in history. A millionaire alleged fraudster on the run, high politics, glamorous locations and beautiful women: the story of Mukhtar Ablyazov's life hardly needs turning into a John Grisham novel.
Today the story of the billionaire former minister of Kazakhstan, subject of the biggest UK fraud case in history, took another dramatic plot twist as a court near his bolthole villa in the South of France ordered his extradition to face criminal fraud charges in Russia.
Mr Ablyazov was one of the world's richest men when he was chairman of the Kazakh bank, BTA. With the country riding high on its new-found oil wealth, and the tycoon close to the country's dictatorial leadership, the noughties were good for him and his glamorous wife Alma Shalabeyeva.
But in 2009, multi-billion dollar black holes were found in BTA's accounts. Mr Ablyazov was accused of embezzlement on a vast scale - allegations he strenuously denies. The bank was nationalised, with severe losses for lenders around the world. Sharing about $500m of those losses are thought to have been Britain's RBS, Barclays, Standard Chartered and HSBC.
Mr Ablyazov fled to the UK and successfully claimed asylum. To this day, the former energy and trade minister of Kazakhstan argues that he has done nothing wrong and that he is being victimised by the Kazakh leadership for his anti-government views, citing his formation of an opposition party to the dictatorial president Nursultan Nazarbayev.
However, BTA, now owned by the Kazakh state investment fund, pursued him in the London High Court, demanding $6bn back and claiming he had funnelled embezzled money into buying a host of swanky properties and investments in the UK and around the world. In Britain, those included Carlton House, a mansion in London's famous billionaire's row, The Bishop's Avenue. Other properties included an estate in Surrey's Oakland Park. Carlton House, with its 10 person Turkish bath, is now up for sale by estate agent-to the stars Trevor Abrahmson at £15.8m, having been seized by the receivers on behalf of BTA.
During the court hearings, BTA successfully argued that he was continuing to move his money around despite being ordered not to, and a judge found him guilty of contempt of court, sentencing him in February 2012 to 22 months imprisonment.
By then, however, he had left the UK. After a manhunt across Europe lasting nearly a year and a half, private investigators acting on behalf of BTA finally got a break. Tailing a friend of the fugitive, they were led to a villa near Cannes. They tipped off the local police and he was arrested in a dramatic raid by special forces reportedly using armoured vehicles and a plane.
Extradition warrants from Russia and Ukraine, where BTA also had assets, were filed.
France had a dilemma. The vocal Alma and their photogenic, and equally vocal, daughter Madina argued that Mr Ablyazov was a political prisoner who would, if sent to Moscow or Kiev, be sent to certain death in Kazakhstan.
But today, reputedly after assurances this would not be the case, the court in Aix-en-Provence accepted both requests, preferring the claim of Russia, because the scale of the alleged embezzlement there, at $5 billion, is far higher than the $400 million alleged by Ukraine. Mr Ablyazov's legal team said they would appeal, while his wife Alma said: "Extraditing him means condemning him to death."
Alma herself was controversially deported from Italy last year with her daughter Alua after police hunting Mr Ablayazov found them travelling on fake Central African Republic passports. Alma and Madina claim that was a kidnapping, not a deportation, and say the CAR passports were genuine.
BTA bank, meanwhile, claims it has so far won judgements on five of its 11 claims against Mr Ablayazov, totalling $4.1bn. But, according to reports not denied by BTA, it has only retrieved a few hundreds of millions of dollars.
The bank said it hoped the extradition would make it easier for it to retrieve more.
With an appeal process now in train, in the manner of the best thrillers, this intriguing thriller is to be continued.
www.independent.co.uk