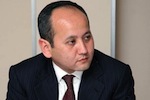 A court in France has agreed to a request from Russia to extradite Mukhtar Ablyazov, a fugitive former Kazakh banker and political activist wanted on suspicion of fraud. Lawyers for Mr Ablyazov denounced the ruling by the court in Aix-en-Provence yesterday and said they would appeal to the Court of Cassation in Paris.
Jean-Pierre Mignard said the ruling "drapes French justice in shame".
Mr Ablyazov, who fled Kazakhstan in 2009 as his BTA bank was being nationalised, was arrested in France last July after being on the run for more than a year.
He had been granted asylum in the UK but went into hiding after he was sentenced to 22 months in jail for contempt of court related to fraud cases in the English High Court involving BTA, of which he had been chairman and key shareholder. Police in London had told him his life was in danger.
Russia and Ukraine requested his extradition from France on charges related to alleged fraud committed against BTA in those countries and the court gave priority to the Russian application.
BTA released a statement in London welcoming the court ruling.
"This ... will help the bank's efforts to recover over $6bn in assets which were misappropriated by Mr Ablyazov during his tenure as chairman of the bank," it said.
Mr Ablyazov, a former energy minister and critic of President Nursultan Nazarbayev of Kazakhstan, rejects the fraud claims and says they are politically motivated. His lawyers argued that Russia and Ukraine would send him to Kazakhstan where his life would be in danger.
The Financial Times