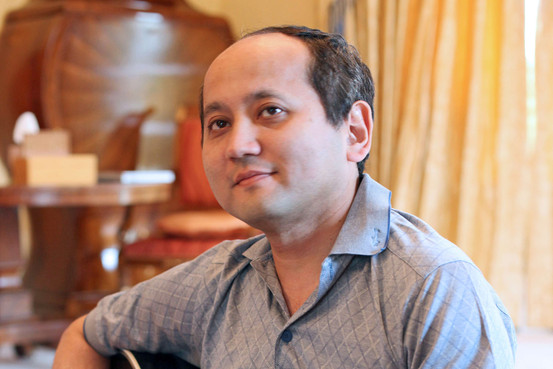 Dissident Mukhtar Ablyazov, who is accused of embezzling up to £3.64 billion from his former bank in Kazakhstan, should be extradited to Ukraine or Russia, a French court has ruled. The 50-year-old who had been in hiding since being sentenced to prison for contempt of court by an English judge 18 months ago, was arrested near the Riviera resort of Cannes last July and has been in custody since.
Kazakhstan, which wants to put him on trial, has no extradition treaty with France. However, both Ukraine and Russia have requested his extradition.
The court said it preferred he be extradited to Russia on the grounds that the alleged financial losses in the case were much larger there than in Ukraine.
Ablyazov's wife, Alma Shalabayeva, said after the court's ruling yesterday that her husband was wanted by Kazakhstan because "he is fighting the ferocious regime" in his native country.
"For my husband, extradition amounts to a death sentence," she said. "If he is extradited, he will never see me and our four children."
His lawyer, Olivier Quesneau, said he would appeal against the decision, a move that could halt the extradition process for about a year.
Another of his lawyers, Bruno Rebstock, said: "French justice is not doing itself an honour. Either it's very naive about states widely recognised as corrupt or it [the ruling] is a sign of the political powers' sway over the court."
Ablyazov is accused of having embezzled the money from BTA, the Kazakh bank he once controlled but which was seized by the Kazakh authorities and declared insolvent in 2009.
Prosecutors claim he made loans to front companies that he controlled and which were never paid back.
Russia and Kazakhstan are close political, military and economic partners. Ablyazov's supporters have voiced concerns that Russia could hand him over to Kazakhstan after his extradition by France.
Kazakh president Nursultan Nazarbayev, 73, a former steelworker, has ruled Central Asia's largest economy for more than two decades.
He has overseen market reforms and massive foreign investment in his oil-rich nation of 17 million people, whose area is about five times the size of France. However, he tolerates little dissent and his party controls the docile legislature.
BTA welcomed the ruling, saying the decision would help it to recover billions of euros it accused its former chief of misappropriating.
Ablyazov, a former minister, said during the hearing that the allegations against him were fabricated and designed to eliminate him as an opponent to Mr Nazarbayev.
Ablyazov was granted political asylum by Britain after he moved there in 2009, but he fled London last year after being sentenced to 22 months in prison for contempt of court.
Last month, Italy welcomed back his wife, after she had been expelled from the country. The case created an uproar in Italy, where opposition politicians and the press accused the government of disregarding normal judicial and diplomatic procedures to please Kazakhstan and gain access to its oil wealth for Italian companies.