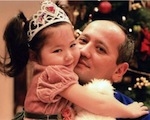 Fifty plainclothes Italian special agents raided a villa on the outskirts of Rome on May 29 and absconded with Alma Shalabayeva and her 6-year old daughter, Alua. Two days later, after uncharacteristically swift legal proceedings, mother and daughter were whisked away to Kazakhstan, a resource-rich former Soviet state in Central Asia.
While Shalabayeva and her daughter are Kazakh citizens, both had European Union residence permits, issued by Latvia, allowing them to stay anywhere in the E.U. Italy has an estimated 440,000 illegal immigrants, many of whom are presumably more dangerous than Shalabayeva and whose cases typically take some time to resolve. So why would the Italian government single out a 47-year-old mother and her child, neither of whom had a criminal record, and so rapidly put them on a private jet to the one country where they should never have been sent?
The answer lies in the fact that Shalabayeva is the wife of Mukhtar Ablyazov, a former minister in the regime of Nursultan Nazarbayev, who has ruled Kazakhstan since it gained independence from the Soviet Union in 1991. After falling out with Nazarbayev, Ablyazov started an opposition political movement in 2001. He was jailed in 2002, after the regime accused him of financial crimes and abusing his office. Amnesty International declared that year that Ablyazov, who had reportedly been beaten and denied access to legal counsel, was "apparently targeted because of [his] peaceful opposition activities." After his release, Ablyazov headed a bank and spent millions of dollars funding opposition groups. In 2009, the Kazakh regime nationalized the bank and accused Ablyazov of embezzling billions. Ablyazov fled — one of dozens of former Kazakh officials who have left the country after running afoul of Nazarbayev — and was grantedasylum in Britain in 2011.
While the Kazakh government pursued Ablyazov in the British courts, fighting over who was at fault for the bank's losses after nationalization, London's Metropolitan Police informed Ablyazov that he was the target of an assassination plot. Fearing for his life, Ablyazov went into hiding last year. He denies all the charges against him and continues to push for change in Kazakhstan.
Whatever Ablayzov's legal predicament, the treatment meted out to his wife and daughter represents an extraordinary breach of international standards regarding refugees and others seeking political asylum. Under E.U. law, member states are forbidden to deport or extradite people to countries where they may be tortured or persecuted, a likely prospect in this case. The E.U. parliament passed a resolution this spring criticizing the abysmal human rights record of Kazakhstan, where independent media are shut down, opposition figures are harassed and assassinated and striking workers have been killed on picket lines.
The Kazakh government alleges that Shalabayeva and her daughter were in possession of unlawfully obtained passports, something Shalabayeva denies. It announced June 7 that Shalabayeva had been convicted and sentenced — a claim it retracted hours later. The Kazakh regime's legal "case" against Shalabayeva is a farce, intended to harass one of its most vocal critics.
James Kirchick is a Berlin-based fellow with the Foreign Policy Initiative.
www.washingtonpost.com