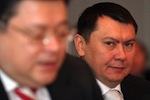 The former son-in-law of Kazakhstan's dictator, Nursultan Nazarbayev, is now being accused of money laundering by lawyers across Austria, Germany and Liechtenstein - as confirmed in documents seen by MaltaToday.
Rakhat Aliyev, 51, was once Kazakhstan's deputy chief of the secret service, before falling out of favour with the undisputed ruler of the oil-rich country, Nursultan Nazarbayev. Forcibly divorced from his wife and sentenced to 20 years' imprisonment on a double-murder charge - which he denies - the former ambassador to Austria has been living in Malta since 2010.
In an interview with The Times, whose publishing arm, Progress Print, will be reprinting the second volume of his memoirs, Aliyev claimed he lives in fear that his persecutors will kidnap him.
Aliyev is also the subject of a criminal investigation by Austrian prosecutors for his alleged involvement in the Nurbank murders of 2007, apart from facing accusations of human rights violations from his alleged victims. But their judicial appeal to force a police investigation in Malta has, so far, failed.
Documents of complaints submitted to both the Viennese prosecutor and the Maltese police, seen for the first time by MaltaToday, now raise questions about the flow of monies from Austria into Malta through companies that were owned by Rakhat Aliyev or his wife, Elnara Shorazova, and their known associates.
According to Austrian lawyers Lansky Ganzger Partner, who represent the widows of the two Nurbank bankers allegedly murdered by Aliyev or on his orders - accusations which Aliyev denies - monies belonging to Aliyev were transferred to Malta using various companies in Austria and Liechtenstein. They claim that the money was laundered from alleged criminal activity, but MaltaToday cannot substantiate this claim.
The lawyers have mapped out a complex network of transaction flows: in the first step, money was fed via two offshore companies, AV Maximus SA and Argocom Ltd into another company, A.V. Maximus Holding AG. That money was then channelled into subsidiaries Armoreal GmbH and S.T.A.R.T. Managementconsulting GmbH.
In the second step, loans were granted between the subsidiaries, with large amounts going to the German company Metallwerke Bender Rheinland, partly via ITR GmbH.
In the third step, the money flowed back to A.V. Maximus SA or, via A.V. Maximus Holding AG, to Maltese and Caribbean enterprises.
The Austrian A.V. Maximus Holding was owned by a Maltese company, A & P Power Ltd, which was itself owned by Nevis-registered A + P Power Holdings Ltd.
Past evidence presented in the Maltese civil proceedings between Shorazova, Aliyev's wife, and her former lawyer, Pio Valletta, showed that she was the beneficial owner of the companies in Malta and Nevis, perhaps acting as a trustee on her husband's behalf.
A & P Power Ltd became the owner of A.V. Maximus Holding AG on 16 March 2011. In her dispute with Valletta before the Maltese civil courts, Shorazova testified that the Maltese lawyer founded A & P Power Ltd on her behalf. The official purpose of the company as indicated was to render aeronautics services. It was via this company that Shorazova transferred the sum of €2.4 million from Austria to Malta.
A & P Power Ltd had assets of just €300 in 2009, incurring a loss of €2,100 in 2010.
Valletta then charged a total of €1.5 million in legal fees to found the company and for name-lending services he rendered to Shorazova, which sum he claimed had been determined on the basis of the amount of money administered by him. According to Valletta, he had rendered these services not only for Shorazova but also for Aliyev.
In a bid to reach an out-of-court settlement on the litigation, on 14 July 2011, Valletta transferred his beneficial ownership in A + P Power Holdings back to Shorazova and resigned his directorship to GSB Management Ltd, the enterprise of Aliyev's new lawyer, Dr Joseph Giglio. Now seated at the address of Giglio's law firm, A & P Power has been renamed Zurich Asset Management Ltd.
The Viennese prosecutor was also asked to investigate claims that, as third embassy secretary in the Kazakh embassy to Austria, Shorazova was unable to build up "assets of any dimension worth mentioning", pouring doubt over her ability to amass millions of euros in wealth which were transferred to Malta.
Berlin lawyers Danckert Spiller Richter Bärlein, acting on behalf of the Kazakh ministry of justice, also filed its own report to the Maltese Attorney General.
In their dossier, DSRB claimed that Aliyev shifted to Malta over €100 million in alleged "criminal gains" during his time as deputy head of the Kazakh secret service.
Again, MaltaToday has been unable to substantiate these allegations, although they have not been rebutted by Maltese investigators so far.
While residing in Vienna, Aliyev appeared as a board member of the company A.V. Maximus Holding AG, whose subsidiary Armoreal Trading - whose managing director was Shorazova, his new wife - was the sole shareholder in Metallwerke Bender Rheinland (MBR), a metallurgy factory in Krefeld, Germany.
The lawyers claim that MBR, with Shorazova's father, Muratkahn Shorazov, acting as the company's managing director, received large amounts of money obtained illegally in Kazakhstan and then paid back as debt payments on alleged loans from Armoreal Trading, ultimately to A.V. Maximus.
Through 21 banking operations between 2006 and 2007, €2.4 million was transferred from MBR to another A.V. Maximus subsidiary, S.T.A.R.T. Managementconsulting.
In March 2010, when Aliyev and his wife decided to move to Malta, his father-in-law sold off MBR to a Dubai-based company called SF Holding, ostensibly at an "unwarranted high price" - dubiously high enough to have prompted the German authorities to conduct a search of the involved notary's office.
In December 2010, Elnara Shorazova liquidated Armoreal Trading, and that same month an Austrian company - Veitlissen - transferred €2.4 million to a Maltese company, A & P Power Ltd.
When in January 2011, Aliyev and Shorazova were issued with their permanent residency permit, MBR filed for bankruptcy. Then in March, A.V. Maximus Holding was sold to A&P Power Ltd, and renamed Zurich Asset Management.
Both the transfer of the money to A & P and Aliyev's residency permit were handled by his former lawyer, Pio Valletta, with whom Aliyev later fell out, when Valletta demanded a €1.5 million payment for his services.
"All this indicates that upon relocating to Malta the suspects have started to fundamentally restructure their money laundering network. This included winding up some of his activities in Germany and Austria and moving the de facto headquarters of his operations to Malta instead. Zurich Asset Management Ltd. (formerly A & P Power Ltd.) appears to play a key role in this new scheme. There can be little doubt that this dubious company has been controlled by Mr Aliyev and Ms Shorazova since at least December 2010, when Dr Valletta took over as its director," lawyers DSRB stated in their letter to the Maltese Attorney General.
As stated by Shorazova herself in the Maltese courts, she remitted €2.4 million from Veitlissen GmbH to Malta. There is no evidence of how this €2.4 million was amassed, but lawyers Lansky Ganzgner believe the money came from the sale of a property on Winzerstrasse 25a, a house which constitutes a part of the "Veitlissen complex" comprised in part by employee apartments.
According to a June 2008 purchase contract, the house was sold by Aliyuev and Dr Hans Jerabek for €1.85 million.
In December 2010, €2.4 million was remitted from Veitlissen GmbH to Malta-based Trade & Trade Yachting Ltd, owned by Pio Valletta and Trade & Trade AG, a company registered in Liechtenstein and founded by Valletta, but liquidated as early as 26 June 2004.
But Valletta only remitted €2.2 million from Trade Yachting to Shorazova, giving rise to the civil action between the Aliyevs and Valletta.
In her civil proceedings, Shorazova submitted statements of remittance from Liechtenstein's Valartisbank, on which the names and the account number of the party ordering the payments were blackened. These statements of account were to support her claim that her "Austrian lawyers" had settled Valletta's Malta fees via the indicated account in Liechtenstein.
MaltaToday