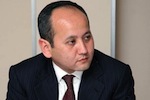 Mukhtar Ablyazov, a Kazakh businessman accused of embezzling $6 billion from his former bank BTA, has been arrested near Cannes in southern France and is being held by police, sources familiar with the situation said.
A police source said Ablyazov was arrested in the village of Mouans-Sartoux, located about 8 km (5 miles) north of Cannes.
A court hearing has been scheduled for 10.30 a.m. (4:30 a.m. ET) on Thursday, the source added. No further details were immediately available.
Ablyazov fled the UK last year after being handed a 22-month jail sentence for contempt of court by a British judge and has been in hiding ever since.
An entrepreneur and former Kazakh government minister, Ablyazov fled Kazakhstan in 2009 after the bank he once controlled was seized by the government and declared insolvent. He was granted political asylum in Britain in 2011.
BTA, controlled by Kazakhstan's sovereign wealth fund Samruk-Kazyna, has brought 11 fraud charges against Ablyazov in a tortuous legal battle that, to date, has seen the bank win court approval to seize around $3.7 billion of his assets.
He denies allegations he says are designed to rob him and eliminate him as a rival to Kazakh President Nursultan Nazarbayev. He has said his life has been in danger since he left Kazakhstan and he feared for his safety in a British jail.
Ablyazov says he fell out with Nazarbayev after campaigning for a change in government at home.
His case hit the headlines again in June after his wife and six-year-old daughter were discovered and summarily deported from Italy to Kazakhstan, prompting calls for the resignation of Italy's interior minister.
The minister, Angelino Alfano, survived a no-confidence vote on July 19, averting a political crisis that could have brought down the fragile coalition government of Prime Minister Enrico Letta.
(Editing by Tom Pfeiffer and David Evans)