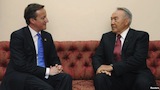 The authoritarian leader of Kazakhstan visited David Cameron in Downing Street while he was on a private trip to London with his family this week, it has emerged. In a visit, which was not officially briefed to the media, the Prime Minister showed President Nursultan Nazarbayev around his official residence and the pair had a short "informal meeting" on Monday.
President Nazarbayev, who won 95.4 per cent of the vote in the most recent Kazak election, was in the capital visiting museums, according to sources. It is the second meeting between Mr Cameron and Mr Nazarbayev in less than a month. The Prime Minister became the first British leader to visit the oil-rich state as part of a tour of Central Asia at the start of July. Mr Cameron justified his decision to visit Kazakhstan – whose regime is accused by critics of jailing and torturing opponents – on the grounds that it is a "rising power". He was given the backing of President Nazarbayev, who told a press conference: "Personally, I would vote for him."
Kazakhstan will be an important exit route when the withdrawal from Afghanistan gathers pace before the end of combat operations next year.
A Downing Street spokesman said: "The Prime Minister and President Nazarbayev discussed how they could build on the PM's visit to Kazakhstan and continue to strengthen relations, especially commercial ties, between both countries.
"They also discussed a number of foreign policy issues, including Iran, Syria and Egypt."
www.independent.co.uk