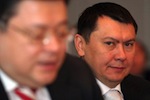 Multimillionaire accused of human rights abuses, torture, money laundering and murder had approached MaltaToday's ownership to buy the company.
Rakhat Aliyev, the multimillionaire accused of human rights abuses, torture, money laundering and murder, approached MaltaToday's ownership to buy the company. Aliyev, who is represented in Malta by criminal lawyer John Giglio, was previously represented by another lawyer, Pio Valletta, a former associate of the disgraced civil servant Rita Schembri.
Among the most serious allegations against Aliyev are charges put forward by bodyguards of former Kazakh Prime Minister Akezhan Kazhegeldin who said Aliyev tortured them in order to induce them to falsely implicate their boss in a coup against the Kazakh president in 1998-99.
Aliyev, formerly the son-in-law of Kazakh dictator Nursultan Nazarbayev (pictured below), lives in self-imposed exile in Malta after he was stripped of his position and immunity in Austria, when he was sentenced in absentia to 20 years in prison by a Kazakh court, on charges of kidnapping bankers Zholdas Temiraliev and Aybar Khasenov.
In Malta, Aliyev might have searched for anonymity under the surname Shoraz from Austrian investigators.
But a legal challenge from the wives of the kidnapped bankers, and the criminal investigations by the Viennese prosecutors, have reached him here.
An investigation by MaltaToday into the criminal inquiries led by Austrian prosecutors on Rakhat Aliyev, 49 - Kazakhstan's former ambassador to Vienna - has established that the Maltese government awarded the millionaire a permanent residence permit, despite objections raised by the police due to a previous Interpol alert issued against him.
The powerful family squabble between the President of the oil-rich nation of Kazakhstan and his powerful, exiled son-in-law Rakhat Aliyev, has boiled over in Malta, with reports of Aliyev's commercial activities now reaching the island's Financial Intelligence Analysis Unit.
And in the Maltese courts, a €2.4 million lawsuit is the subject of a bitter feud between Aliyev - who goes by the name of Rakhat Shoraz, and lives in Mellieha's swank Santa Marija estate with wife Elnara Shorazova - and his former lawyer, Pio Valletta.
Before divorcing his daughter in 2007, Rakhat Aliyev (Shoraz) married into Kazakhstan's almighty power centre led by President Nursultan Nazarbayev. An influential figure, Aliyev served as chief of the tax police, deputy foreign affairs minister and head of the Kazakh equivalent of the KGB.
But critics say he used his clout to secretly take over private companies for financial gain, often by threatening violence and intimidation.
Things came to a head with the disappearance of two Nurbank managers, Zholdas Timraliyev and Aybar Khasenov, later discovered dead. Under pressure from the public outrage that hinted at Aliyev behind the kidnappings, Nazarbayev kicked his son-in-law out to Vienna as ambassador.
But an international campaign by the bankers' widows pushed the Kazakh authorities to initiate proceedings against Aliyev. While in Vienna in May 2007, Aliyev was sentenced in absentia to 20 years' imprisonment by a Kazakh court and his marriage to the daughter of the Kazakh president officially cancelled.
After being briefly detained by Austrian authorities, acting on an arrest warrant issued in Kazakhstan, Aliyev was released on bail of €1 million. The Austrian government has refused to extradite Aliyev to Kazakhstan but initiated criminal investigations of its own.
Ever since rejecting extradition to Kazakhstan in 2007, Viennese prosecutors have carried out criminal investigations for money laundering and kidnapping, and even pursued the matter with the EU's agency for justice coordination, Eurojust.
Austrian prosecutor Bettina Wallner has already been to Malta, having questioned Aliyev at the Maltese courts for three days in April 2012 over the bankers' murder investigation. Austria has resisted Kazakh demands to extradite Aliyev to Kazakhstan, where he cannot be guaranteed a fair trial under several politically-motivated charges by members of the Nuzurbayev clan.
On his part, Aliyev has positioned himself as a victim of Nuzurbayev's excesses, publishing the book Godfather-In-Law in which he accused the Kazakh ruler of being behind the murder of former Kazakh ambassador to Russia Altynbek Sarsenbayev.
www.maltatoday.com.mt