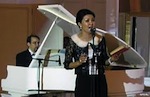 THEY are the last survivors of the Soviet era: two ageing, possibly ailing, dictators clinging to power in Central Asia, warily embraced by the West despite their disregard for human rights and democracy.
Now, as succession talk grows louder in Uzbekistan and Kazakhstan, the colourful daughters of Islam Karimov and Nursultan Nazarbayev are being touted as serious contenders to follow their strongmen fathers into power.
If either Gulnara Karimova or Dariga Nazarbayeva end up in charge, their appointment is likely to cause concern in London, Brussels and Washington.
Karimova, 40, a pop star, fashion designer and socialite, and Uzbekistan's representative to the UN in Geneva, is not the international community's idea of a stable ally ready to support the withdrawal of US troops from Afghanistan next year. She has little domestic political experience and is prone to unguarded outbursts on social media.
Uzbekistan has denied reports that she resigned her post in Geneva last week to position herself for a larger role in Tashkent, but in recent weeks she has twice used her Twitter account to accuse Rustam Azimov, the Deputy Prime Minister and a hotly tipped contender for the presidency, of fraud and corruption.
In Kazakhstan, Nazarbayeva, 49, an amateur opera singer who has performed at the Bolshoi Theatre in Moscow, recently re-entered parliament after a four-year hiatus some analysts believed indicated a rift with her father. Even during that period, a poll showed she was the most famous politician in the country after him.
Both of their fathers will be formidable acts to follow.
Mr Karimov, 75, and Mr Nazarbayev, 72, are the only leaders their people have known since the fall of the Soviet Union. They are rivals more than allies, although a recent meeting between Mr Karimov and the Kazakh Foreign Minister in Tashkent set up a summit between the two rulers for later this year.
Mr Nazarbayev's country is the richer, thanks to its abundant oil deposits. Mr Karimov's is an essential transit point for NATO, but has the more opaque political system and the grimmer human rights record of the two.
Sanctions imposed in 2003 after human rights investigators determined that a political prisoner had been boiled alive have largely been lifted, although Human Rights Watch maintains torture is still as rife as it ever was in the country.
Next week, Mr Karimov is due to visit Moscow for a meeting with Russian President Vladimir Putin. It will be his most high-profile public appearance since reports that he suffered a heart attack surfaced last month.
Officials in Tashkent have said only that the President was "in excellent form, as always". His daughter used her Twitter account to claim someone would have to be "more than crazy" to suggest her father had physical problems.
Mr Nazarbayev is believed to have been treated for prostate cancer in 2011, and in Kazakhstan the succession is now openly discussed.
James Nixey, of international think tank Chatham House, said it was important to note that neither Mr Karimov nor Mr Nazarbayev had ever endorsed their daughters as their successors.
He added: "And in both countries it's a poisoned chalice to be thought of as the coming man or woman. If you rise too far too fast, you're generally in for a nasty fall."
Ben Hoyle, Moscow
The Times