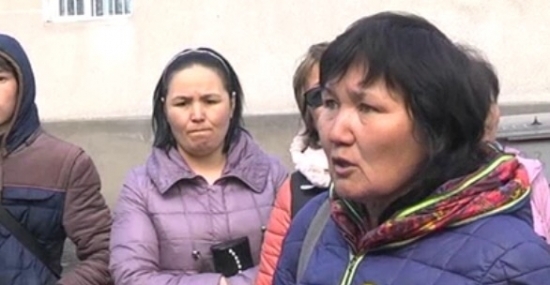 On the morning of December 14, a 48-year old woman in Astana, Maira Rysmanova, succumbed to injuries sustained after she set herself alight in a desperate protest in front of the General Prosecutor's Office.
Rysmanova resorted to the gesture in a plea for a review into the case of her son, who she said had been unjustly prosecuted on drug possession charges.
The tragedy is fresh reminder of the deeply held conviction among many Kazakhstanis that the country's courts operate arbitrarily and do not provide real justice to defendants.
Rysmanova was one of four women who walked up to the front entrance to the General Prosecutor's Office on December 4. As she reached the spot, she removed her outer clothes, doused herself in gasoline and set fire to herself with a match. Guards quickly tried to put out the blaze and called an ambulance.
Rysmanova was treated for the burns, which doctors said covered 60 percent of her body, at Astana's Hospital No 1.
It later emerged that Rysmanova was driven to the act by the fate of her 28-year old son, Yerbol Akhmetov, who she believed to be innocent. In June 2015, the Shu distruct court in the Zhambyl region sentenced Akhmetov to four-and-a-half years in jail on charges of possessing drugs — namely, 3.5 grams of heroin and 285 grams of hashish. Akhmetov appealed his conviction, which was upheld up in August.
In a renewed bid to seek her son's release, Rysmanova filed a complaint about the case with the General Prosecutor on November 28. The prosecutor's office requested further investigation into the case, but that does not appear to have brought any quick results.
On the day after Rysmanova self-immolated, General Prosecutor Zhakip Asanov told parliament that he would personally take to task those people that failed to properly address the case.
"People are resorting to this because [officials] in the regions are not listening to them," Asanov said.
But the General Prosecutor bemoaned the sheer level of complaints being addressed to this office — around 2.5 million outstanding by his estimate.
"We are drowning in these complaints. We need a total overhaul of the system, so that people feel supported," he said.
But Rysmanova's relatives have said they are still unable to get proper feedback from the General Prosecutor's Office. Her daughter, Akmaral, told New Times website that she has been going to the prosecutor's office daily, but is routinely turned away. She holds the General Prosecutor's Office responsible for her mother's fate.
"When I come with gasoline next time, he [Asanov] will listen to me for sure. Otherwise I'll meet my mother's fate," Akmaral warned.
Following Rysmanova's death, however, Asanov agreed to meet Rysmanova's sister, Daniya Rysmanova.
EurasiaNet.org, 14.12.2016