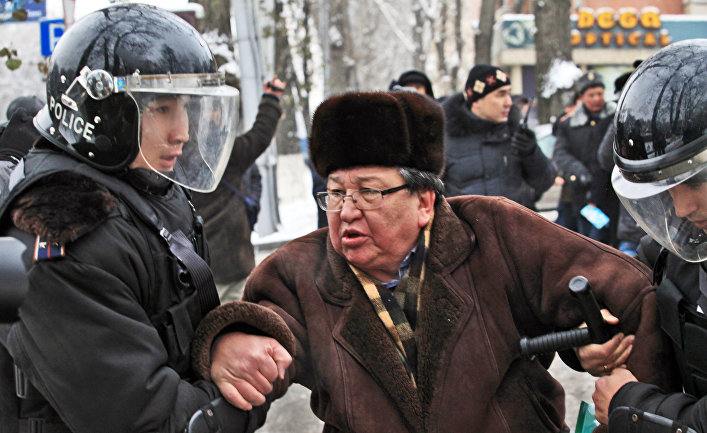 The oil workers were shocked to see that the city would try to hold a party just yards from the spot they had occupied for months in the hope of negotiating higher salaries. The day was December 16, 2011, and authorities in the city of Zhanaozen in western Kazakhstan, disregarding the strikers, were intent on celebrating Independence Day in a cacophonous way.
Event organizers had installed large speakers on a stage for musical acts. Enraged by what they viewed as a provocation, groups of angry men bulled their way past thin lines of police, rushed the stage, toppled the speakers and remonstrated with organizers.
After months of a peaceful sit-in, tempers had reached a crescendo on Zhanaozen's main Yntymak (Accord) Square. Before long, police started spraying bullets at the protesters. "I wanted to hide behind that enclosure," recalled Roza Tuletayeva, an oil worker who served a jail sentence over the unrest, gesturing at a low wall on the square enclosing some trees.
"But it was pointless. The bullets were coming in all directions," said Tuletayeva, speaking to EurasiaNet.org this fall, ahead of the anniversary of the violence.
According to the official toll, 16 people were shot and killed in Zhanaozen and nearby Shetpe, where the unrest spread. Another man died from injuries inflicted by torture in police custody.
The exact sequence of events remains in dispute, and Astana has refused a call from the UN human rights chief for an international inquiry.
The police have always maintained they opened fire in self-defense after being attacked by a mob, some allegedly wielding shotguns and petrol bombs. But a now-deleted video clip posted online by a local resident told a different story. It showed officers shooting fleeing protesters in the back, then viciously beating one of the fallen.
"We had no weapons," said Samat, a striker who received a suspended prison sentence over the unrest and agreed to speak to EurasiaNet.org on condition of being identified only with a pseudonym.
"I always had the labor code in one hand and the constitution in the other – they were my weapons," said Tuletayeva, who became a prominent labor rights activist among the oil workers who went on strike demanding higher wages and improvements to their living and working conditions.
Tuletayeva was among 34 residents of Zhanaozen and Shetpe convicted over the violence after trials marred by allegations of confessions extracted by torture.
Thirteen were jailed, including Tuletayeva, whose seven-year sentence was reduced to five on appeal. Five junior police officers were jailed over the shootings, and one officer was imprisoned over the death of a man from injuries inflicted by torture.
The importance of Zhanaozen needs to be seen as part of the broader political picture to be fully understood.
Astana depicted the Zhanaozen unrest as part of a plot to topple President Nursultan Nazarbayev, hatched from abroad by disgraced banker Mukhtar Ablyazov. Kazakhstan has tried unsuccessfully to secure the extradition of the avowed Nazarbayev foe, who has rejected suggestions he had any hand in the violence of 2011. A court in France ruled last week to cancel an extradition order to send Ablyazov to Russia, which is seeking the tycoon for embezzlement charges that he denies. The French court based the reversal on a determination that Ablyazov was being "sought for a political purpose," with Russia acting as proxy for Kazakhstan.
Another figure in the government's crosshairs over Zhanaozen has been Vladimir Kozlov, an Almaty-based opposition leader who was jailed for seven-and-a-half years on charges of trying to overthrow the state. He has always maintained his innocence. Kozlov's trial prompted an expression of concern from the US government about "the apparent use of the criminal system to silence opposition voices."
The kind of language used by the state media machine to blacken Ablyazov and Kozlov's reputations is now being used against others. For instance, the government explained away the protests against land reform this spring as the prelude to an attempt by businessman Tokhtar Tuleshov to seize power. Last month, Tuleshov was jailed for 21 years, and civil society campaigners Maks Bokayev and Talgat Ayan were imprisoned for five years for being part of the alleged plot.
Some of the former oil strikers scoff at the notion that Ablyazov and Kozlov — who was freed on parole in August — masterminded the Zhanaozen unrest. "I don't even know those people," said Tuletayeva with a shrug. "Perhaps someone did need this, but a working person is not a sheep. Why does he have to be told to do something by someone?"
The government "seeks scapegoats... so they pin it all on Ablyazov," Samat suggested. "There was no politics involved; it was a labor dispute. The workers weren't happy with their salaries and living and working conditions."
Like many of those fired in 2011 after a court ruled the strike illegal, Samat now works at a state-owned company, Burgylau Zhumystary Baskarmasy (Drilling Work Directorate), set up on government orders especially to employ them. Tuletayeva, who is now 52, also found a job there after she was paroled in 2014.
Employees interviewed by EurasiaNet.org broadly expressed satisfaction with their salaries of around 300,000 tenge per month. At around $900, this is twice Kazakhstan's average wage.
Staff from this and other state-owned oil companies in Zhanaozen displayed no inclination to join a strike that broke out at a private drilling company this fall. It was rapidly settled with concessions by authorities.
According to a recent report by Human Rights Watch, officials continue to wield the stick as well as the carrot to manage industrial relations, employing repressive tactics including intimidation and surveillance to contain labor disputes and restrict trade union activity.
Zhanaozen has a jauntier air these days. The government kept its promise to pour in money to rejuvenate the once dilapidated town. New leisure facilities, schools and kindergartens have opened, apartment blocks lining the main street are painted bright shades of purple, yellow and orange, some displaying Kazakh-themed murals. On Yntymak Square, the epicenter of the turmoil five years ago, a giant "I Love Zhanaozen" sign is a popular spot for posing for selfies.
The town is trying to move on, and Tuletayeva with it. She still maintains her innocence, but takes a philosophical view of her time in prison: "It's nothing compared to Guantanamo. They didn't keep us inside for our whole lives," she said, referring to the controversial prison where US officials have kept suspected terrorists.
Some former strikers are less willing to forgive. Nurlibek Nurgaliyev suffered permanent damage to his facial tendons after a bullet lodged in his jaw. "I was standing on the square and the shooting started, and a bullet hit me," he recalls. "It hit me in the chin, and got stuck in the back of my jaw."
But what rankles Nurgaliyev is not so much his physical injury as a sense of injustice over the aftermath. The oil workers "did not take up arms," he said – they were the ones who were "tortured and beaten up."
www.eurasianet.org, 14.12.2016