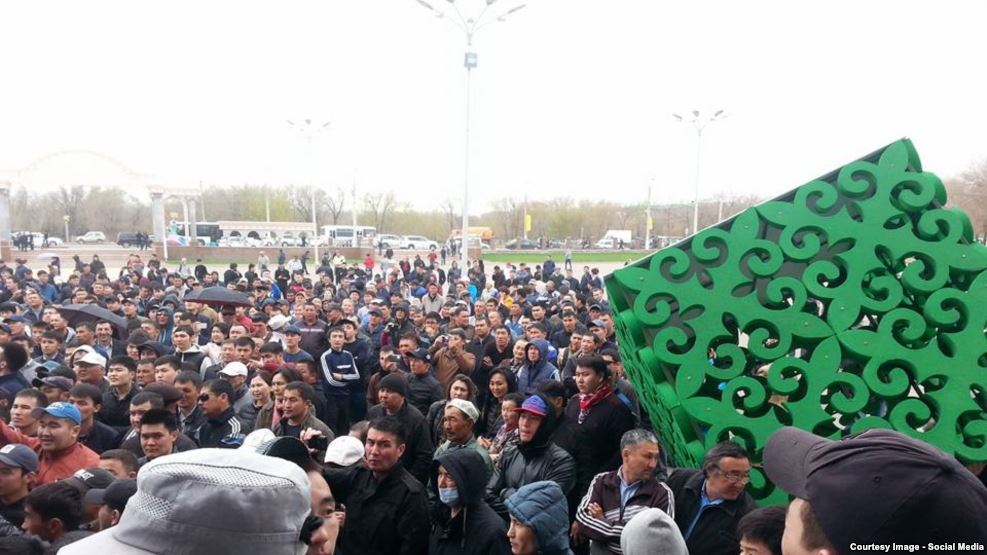 The land protest movement in Kazakhstan is gathering momentum and spreading to more cities, while the authorities appear determined to ride out the public anger.
RFE/RL's Kazakhstan service reported on April 27 that activists in the city of Uralsk applied for permission to rally next month on the heels of major demonstrations earlier in the day in Aktobe and Semey.
The demonstrations are ostensibly against government plans to sell off unused farming land, which many Kazakhstanis fear could be bought up by foreign buyers — the Chinese are the main suspects — but public speeches at the rallies indicate the discontent is spreading to other issues, such as corruption.
Authorities have tried to reassure the public, specifying that the land being made available for acquisition can only be sold to citizens of Kazakhstan, while foreigners will only be able to rent for up to 25 years. The president's office has argued this move will put the farming land back into circulation and provide economic return on land that is now lying unused.
That has reassured few, however.
Footage uploaded to the Internet from the unsanctioned meeting in Aktobe, which looks to have gathered many hundreds, showed speakers touching on a variety of issues, from the justice system to recurrent plans to build a nuclear power station — another popular source of unhappiness.
All the protests appear to have proceeded peacefully so far, not least as the police have refrained from attempting to break them up.
Although state media have studiously avoided reporting on the protests, President Nursultan Nazarbayev on April 26 criticized what he said was a swirl of disinformation surrounding the planned land sales.
"The question of selling agricultural land to foreign citizens or companies is simply not on the agenda and will not be considered," he said in a filmed speech carried by his office's Facebook account.
Nazarbayev then angrily lashed out at those complaining about the land sales, saying that they likely had no idea where the land in question was even situated.
While that may be so, Nazarbayev appears to be underestimating the potential for this emotive issue to evolve into a more generalized protest movement over the marked decline in the population's quality of life. What is a land protest one day could be a protest about something altogether different tomorrow.
EurasiaNet.Org, 27.04.2016