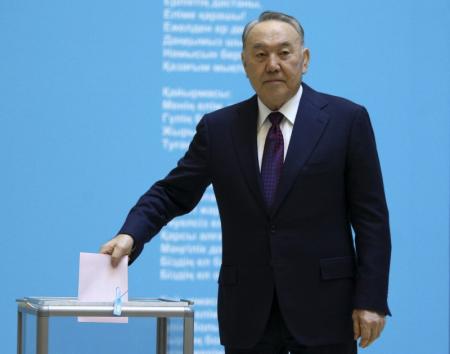 Hundreds of people staged street protests in two cities in Kazakhstan on Wednesday over land reform, Kazakh media and local activists reported, a rare act of defiance that could pose a challenge to the leadership of President Nursultan Nazarbayev.
The protests, a continuation of demonstrations that began on Sunday, were sparked by fears that land reform could allow foreigners to take over farmland, though some analysts say many Kazakhs turned up to express their general discontent.
Though relatively small, the rallies may worry Nazarbayev, 75, who has run the oil-rich Central Asian nation since 1989 tolerating little dissent but who now faces economic headwinds caused by the global slump in oil prices.
Reforms due to take effect from July 1 will allow the government to sell farmland to joint ventures, provided they are controlled by Kazakh residents.
Direct land sales to foreigners will still be banned, though they will be able to lease farmland for up to 25 years, up from 10 years.
Critics, who staged their first protest in the city of Atyrau on Sunday, see that as a threat to national security, especially after the government announced several agreements with neighbouring China on agricultural projects.
On Wednesday, protesters took to the streets of the western city of Aktobe where hundreds of people gathered at a square, according to photographs published by city newspaper Diapazon and videos posted online by activists.
According to Diapazon, police were present but did not try to disperse the rally even though it had not been approved by the city government, which made it illegal under Kazakh law. The city police could not immediately be reached for comment.
Another smaller protest attended by dozens of people took place in Semey, a major city in eastern Kazakhstan, according to several videos posted online by activists.
On Tuesday, Nazarbayev said concerns about foreigners scooping up local farmland were groundless and that "provocateurs" spreading such information "must be exposed and punished".
Those comments, posted in a video on his press service's Facebook page, were met with a torrent of negative comments and even insults late on Tuesday. Typically, the presidential office's Facebook updates generate only a handful of comments each, all positive.
High oil prices in the past decade allowed Nazarbayev's government to maintain relatively high living standards, but as prices plunged, Kazakhstan had to let its tenge currency slide 45 percent against the dollar last year.
"This is the domino effect with the land issue serving as a trigger," said political analyst Dosym Satpayev. "But many attended the rallies in order to express their discontent in general."
(Reporting by Olzhas Auyezov and Mariya Gordeyeva; Additional reporting by Denis Dyomkin; Editing by Andrew Osborn and Richard Balmforth)
ALMATY (Reuters), 27.04.2016