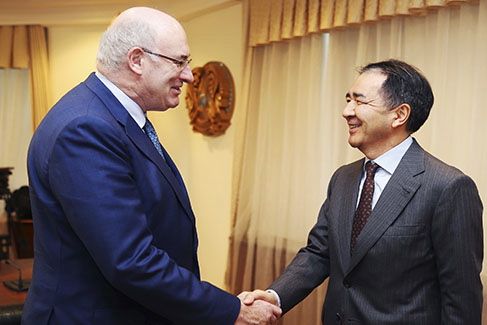 Hundreds of people held a rare public protest in the Kazakh oil industry hub Atyrau on Sunday against new regulations which they fear will allow foreigners to buy local farmland, although the government has said this would not happen.
The central Asian nation, whose area is roughly the same size as Western Europe, amended its Land Code last year, aiming to speed up the privatization of farmland which is now mostly leased rather than owned by farmers.
The amendments, due to take effect from July 1, allow the government to sell land to joint ventures, provided they are controlled by Kazakh residents. Land sales to foreigners remain barred but the maximum term of lease to foreigners is extended to 25 years from 15 years.
Critics see this as a threat to national security.
The activists in the western city of Atyrau were denied permission for the protest but staged the protest nonetheless, newspaper Ak Zhaik, which is based in Atyrau, reported.
The rally was also covered by private Kazakh website Tengrinews.kz and several activists posted photos and videos online. Tengrinews gave the attendance as in the hundreds, which was supported by the pictures and footage online.
The reports said regional governor Nurlan Nogayev addressed the crowd in Atyrau's central square, promising to bring up the issue with the central government and make sure the activists are not prosecuted.
There was no mention of the protest on the state news agency.
Public protests in Kazakhstan are illegal without preliminary approval from local governments, which activists say is routinely denied.
High oil prices in the past decade allowed the government of President Nursultan Nazarbayev, in power since 1989, to maintain relatively high living standards in the nation of 18 million which is the second-biggest exporter of hydrocarbons in the former Soviet Union after Russia.
But the drop in oil prices has hit Kazakhstan hard, forcing it to allow the local tenge currency to slide 45 per cent against the dollar while economic growth is expected to be near zero this year.
Reporting for Reuters by Olzhas Auyezov, 26.04.2016