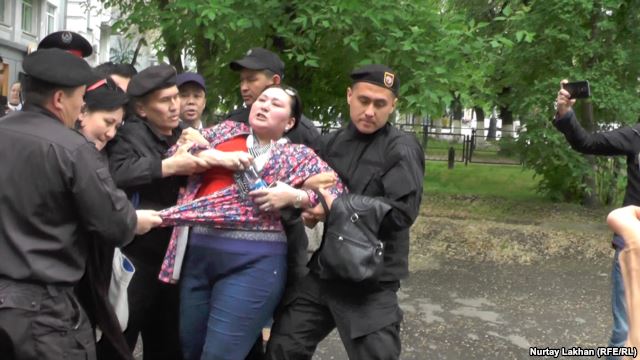 A press conference in Almaty on the proposed plans to rent land to foreign investors had to be cancelled April 29 after police detained the organizers.
The heavy-handed effort to prevent a public discussion is highlighting the nervous state of a government that is flailing in its attempts to quell a wave of protests over the land issue.
Mukhtar Taizhan and Rysbek Sarsenbaiuly, who were set to speak at Almaty's National Press Club, were forcibly denied from getting to the building by police. Rights activists filming the detention, like Galym Ageleuov, were themselves also hauled away by police.
Some time later, Sarsenbaiuly's wife, Marzhan Aspandiyarova, did manage to reach the National Press Club to explain to reporters what had happened to her husband, but the scene degenerated into chaos as she spoke. As journalists gathered around her to listen, several policemen barged in to physically drag her away into a waiting car.
"If you want to prosecute, go ahead. The land will not be sold," Aspandiyarova yelled as she was being manhandled.
The protests that have sprung up in several locations in Kazakhstan revolve around government plans to sell off unused farming land, which many Kazakhstanis fear could be bought up by foreign buyers — the Chinese are the main suspects.
Authorities have tried to reassure the public, specifying that the land being made available can be sold only to citizens of Kazakhstan, while foreigners must do with renting for periods of up to 25 years.
Those reassurances have had little effect. Some argue that once the 25 year period is up, foreigners may choose to squat on the land, while others suspect unauthorized sales will be approved on the sly.
What is particularly worrisome for the government is that a series of rallies ostensibly sparked by the land sale plans could evolve into a generalized protest movement fueled by the economic hardship currently being endured by many in Kazakhstan.
Members of the recently convoked parliament appear, like the authorities, to be electing to bury their head in the sand, going by a punchy video report recently filed by RFE/RL's Kazakhstan service, Azattyq. A reporter with the broadcaster quizzes several MPs on the largest protest to take place to date, in Atyrau, only to be abruptly dismissed or avoided in most cases.
One deputy that did speak to Azattyq, Bekbolat Tleukhan, accused "external forces" of being responsible for trying to destabilize the political situation.
Lots of activists appear to be trying to ride on the coattails of the discontent. One protest planned to take place in the capital, Astana, on May 21 is being organized under the slogan "Shal Ket" or "Old Man Leave," a reference to 75-year old President Nursultan Nazarbayev.
The government's first instinct for now appears to lean mainly on the time-tested method of using force, as happened at the Almaty press conference.
Sakhit Zhanabayeva, a civic activist and head of the Solidarnost workers' movement, said the go-ahead for taking a hardline had come from the top.
"The government is in its death throes. They are executing the orders of the president, who recently said that those protesting against the land sale should be punished and called them provocateurs," Zhanabayeva said.
On April 28, dozens of people came out in the western city of Aktau to hold their own protest, but were denied permission, according an Azattyk report. Several of the organizers of the proposed rally in Aktau have reportedly been detained.
Some signals do speak to a degree of compromise, or movement in that direction at any rate.
Taizhan, one of the detained press conference organizers, said on his Facebook account that he had already been released and that the mayor of Almaty, Bauyrzhan Baibek, had agreed to a parley with activists following the May 1 holidays.
And on April 29, Senate speaker Kassym-Jomart Tokayev acknowledged the need to close loopholes as a way of soothing the noxious public mood.
"We must give more than just assurances that agricultural land will not be sold to foreigners. Legislation and other measures need to be adopted to ensure this prerequisite is adhered to, and so that nobody gets the idea of circumventing the rules through some cunning scheme," he was cited as telling lawmakers by state news agency Kazinform.
All eyes are now on May 21 to see whether these kind of public statements have the required effect as preparations to hold a national protest against the land sales gather pace.
EurasiaNet.Org, 27.04.2016