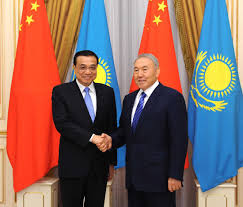 On 14 December 2014, the Chinese Premier Li Keqiang visited Astana for the 13th meeting of the Council of Heads of Government of the Shanghai Cooperation Organisation. The premier's visit signified a new stage in Kazakh–Chinese economic relations. Li announced a new package of economic deals, totalling US$14 billion. Kazakhstan and China also agreed to establish joint enterprises in the manufacturing and other key industrial sectors.
Kazakhstan is the biggest recipient of Chinese FDI in the former Soviet Union. It received a total of US$22 billion in investment from 1991–2013. At the meeting, the Kazakh President, Nursultan Nazarbayev, stressed that Kazakhstan fully supported the construction of China's Silk Road Economic Belt and the 21st Century Maritime Silk Road.
At the January 2015 Kazakh–China investment forum, officials announced that Kazakhstan would launch more than 20 joint projects with Chinese companies in the near future. These joint enterprises will focus on priority sectors in the Kazakh manufacturing industry, such as mining, oil and gas, construction, chemical and light industry, and transport.
These new deals come at a crucial time for the Kazakhstan economy, which recently began to slow down. With crisis in Russia and plunging oil prices, the forecast for growth in Kazakhstan was downgraded from 5.1 per cent to 1.5 per cent. China's own economic slowdown has also caused the price and demand for metals and other resources from Kazakhstan to fall. During the first half of 2014, exports of iron ore to China fell by 41 per cent. This led the Kazakh government to announce a new infrastructure investment program that aims to attract Chinese investment in the manufacturing sector.
China wants to counterbalance Russian influence in Central Asia by expanding its economic activities, trade and transport projects in the region. As Russia suffers recession and the political isolation due to the conflict in Ukraine, its influence in Kazakhstan and Central Asia may decrease. Falling commodity prices have already negatively affected key countries in the region.
By increasing investments and establishing joint enterprises in Kazakhstan, China can also get privileged access to the huge Eurasian Economic Union market, which was launched on 1 January 2015. Chinese President Xi Jinping announced China would contribute US$40 billion to set up a Silk Road Fund to strengthen connectivity and improve cooperation in the country's neighbourhood. Previously, Chinese officialsoffered to establish infrastructure funds within the SCO framework.
Critics of China–Kazakhstan economic integration point out there are serious risks for Kazakhstan. Limited transparency and openness in both countries may result in unfavourable conditions for Kazakhstan. For example, on 2 February 2015 the Chinese government announced that it had closed down all of its outdated factories and highest polluting plants. Experts fear that China could transfer some of these outdated factories to Kazakhstan, which would exacerbate environmental problems there.
Closer integration with China might also inflame anti-Chinese sentiments. Many ordinary Kazakhs are afraid of Chinese economic expansion, immigration and of conflicts over trans-border rivers. In July 2013 the Committee of Tourism of Kazakhstan hinted that it might establish a visa-free regime for Chinese citizens, sparking anti-Chinese demonstrations.
The waning of Russian influence in Central Asia presents a unique opportunity for China to both increase its influence in the region and to reap economic benefits by deepening its market access. But if this is done quickly and clumsy, China's economic expansion into Kazakhstan may provoke resistance and renewed fear of a Chinese threat.
Anuar Almaganbetov is a senior expert at the Economic Research Institute based in Astana, Kazakhstan.
Bakhytzhan Kurmanov is a head of system analysis department at the Economic Research Institute based in Astana, Kazakhstan.
This article originally appeared on the East Asia Forum. Republished with permission.
www.businessspectator.com.au