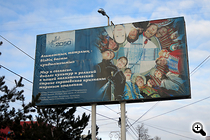 Many Kazakhstanis, including ethnic minorities, support Nazarbayev's leadership. (Photo: Joanna Lillis). A billboard in the northern Kazakhstani city of Kostanay extols the virtues of the country's multi-ethnic ideology. Kazakhstan is home to some 140 ethnic groups, with two regions, including Kostanay, where Russians outnumber Kazakhs at a breakdown of 42 to 39 percent. (Photo: Joanna Lillis)
As Kazakhstan heads for a snap presidential election, strongman leader Nursultan Nazarbayev is making no secret of his reasoning for an early vote: he wants to both reinforce support for the government to help it weather an economic downturn and to disarm "nationwide alarm" about the potential threat of "internal discord and external conflicts."
Nazarbayev's attention these days is primarily fixated on Kazakhstan's northern borderlands with Russia, long tipped by scaremongers as a potential target of a Kremlin land grab.
The president and his team are warily watching Ukraine, which is currently grappling with a separatist conflict that officials in Kyiv and the West insist Russia is stoking. The tenuous position Ukraine now finds itself in has filled officials in Astana with a desire to reinforce the loyalties of Kazakhstani citizens living in towns and cities along the country's meandering 7,000 kilometer border with Russia. In some of these areas, ethnic Russians outnumber Kazakhs. Nationwide, Kazakhs make up two-thirds of the population, Russians a fifth.
Vladimir Putin's Kremlin has done its part to stoke Kazakhstani concerns by invoking a self-appointed right to intervene in foreign countries in order to protect the interests of Russian speakers abroad. Some Russian politicians have also echoed an idea first proposed by the late writer Alexander Solzhenitsyn, who contended many areas of northern Kazakhstan should be considered Russian territory.
The 74-year-old Nazarbayev has not confirmed if he will stand in the April 26 election, but expectations are high that he will. The country's national security is at stake, he intoned last month when announcing the vote.
Kazakhstan is home to some 140 ethnic groups, and many minorities tend to back Nazarbayev to the hilt. He is seen as the glue binding this multi-ethnic society of 17 million people together, a bulwark against nationalism, and a guarantor of minorities' rights and security.
Amid the geopolitical tension over the Ukraine conflict, what Kazakhstan needs is stability and continuity, Nazarbayev said last month. It is a message that is receiving ringing endorsements from likely voters in Kostanay, a borderland city that alarmists fear is situated in an area vulnerable to Kremlin meddling. The city sits just 180 kilometers from the frontier and is closer to the Siberian cities of Yekaterinburg and Chelyabinsk than to Astana. In addition, the Kostanay Region is one of just two administrative regions in Kazakhstan where Russians (42 percent) outnumber Kazakhs (39 percent).
For now in Kostanay, as elsewhere in northern Kazakhstan, support for Nazarbayev's mantra of intercommunal harmony appears rock solid.
"We're for Nazarbayev," said one pensioner enjoying a Sunday afternoon stroll in a snowy park in downtown Kostanay (like some other interviewees, she declined to identify herself). "We believe in him, we're happy with him, and we wish him the strongest health for many years ahead."
With Ukraine in a downward spiral of violence, locals in Kostanay see Nazarbayev as a stabilizing force. "Peace in this home of ours – that's the main thing," said local resident Vladimir Voronov.
While sentiment may be staunchly pro-Nazarbayev today in northern Kazakhstan, officials are no doubt aware of the fact that back in the 1990s separatist sentiment ran strong among Slavs in the north, causing a headache for Astana. Indeed, 15 years ago officials broke up a pro-Russian separatist plot in the northeastern city of Oskemen.
Moscow has been dismissive of Astana's territorial sensitivities, even though Putin himself appeared to cast doubt on Kazakhstan's viability as a sovereign state last summer. "The Kazakhs had never had statehood" before Nazarbayev "created a state on territory where no state had ever existed," Putin said shortly after Nazarbayev made a veiled threat to withdraw from the Kremlin-led Eurasian Economic Union, if Kazakhstan's sovereignty were threatened.
Putin followed up with effusive praise of Nazarbayev's leadership qualities, but his comments indicated that the Russian leadership could see Kazakhstan as 'in play" after Nazarbayev leaves the political stage.
In Kostanay, the local leader of the pro-government Communist People's Party of Kazakhstan believes the upcoming presidential election is intended to send Russia a clear message -- to affirm "that Kazakhstan will be ruled by Nazarbayev for a long time [yet]," Dmitriy Legkiy told local newspaper Nasha Gazeta.
Kazakhstan's ethnic groups generally rub along well together, despite occasional localized conflicts that split along ethnic lines.
In Kostanay, "we have a lot of ethnic groups – Russians, Kazakhs, Ukrainians," IT student and Nazarbayev supporter Saltanat Orazbekova (a Kazakh) told EurasiaNet.org. "Everyone lives in friendship."
Nearby, a billboard typical of posters all over Kazakhstan that bombard the public with slogans championing national unity trumpets: "Peace and accord and a dialogue of cultures and religions in our multi-ethnic country are justly recognized as an international standard."
For some, this message is a reassuring one.
"I'll be voting for Nazarbayev," said retired communications worker Lyudmila Konyushonok, a Russian. "He upholds peace and accord between the ethnic groups."
EurasiaNet.Org, March 3, 2015