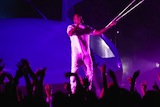 A rights group has hit out at hip-hop superstar Kanye West for performing at the lavish wedding party of the Kazakh president's grandson, calling the country a "human rights wasteland." Thor Halvorssen of the New York-based Human Rights Foundation said President Nursultan Nazarbayev's "regime crushes freedom of speech and association."
"Someone like Kanye, who makes a living expressing his views, would find himself in a prison under Nazarbayev's rule.
"This particular dictator's ruthless behavior includes kidnapping the families of dissidents to his rule and abusing judicial systems across the world in persecuting his opponents."
West was reportedly paid $3 million to perform as the surprise celebrity guest at the wedding in Almaty over the weekend and his performance was pictured by guests on Twitter and Instagram.
The rights group said Sting had refused to perform at a private concert in Kazakhstan in 2011 over the repression of workers.
"The millions of dollars paid to Kanye came from the loot stolen from the Kazakhstan treasury. Kanye has entertained a brutal killer and his entourage," said Garry Kasparov, the former world champion chess player who is now chairman of the Human Rights Foundation (HRF).
Nazarbayev has been repeatedly criticised by rights groups for his authoritarian rule and for squeezing dissent in the Central Asian state.
Such appearances by celebrities in autocratic Central Asia have backfired for stars in the past.
US pop diva Jennifer Lopez was vehemently criticised for appearing at a birthday party for Turkmenistan's strongman President Gurbanguly Berdymukhamedov this year.
"Will he (West) follow J.Lo's lead and simply remain hypocritically oblivious to the plight of the world's most oppressed people? It's up to the public to hold them accountable," said the HRF.
www.thenewstribe.com