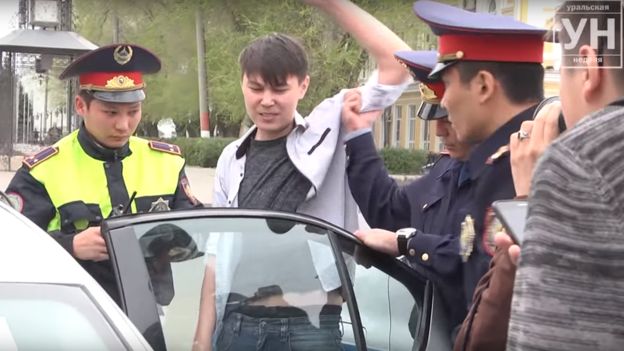 To test the limits of his right to peacefully demonstrate in Kazakhstan, Aslan Sagutdinov, 22, stood in a public square holding a blank sign, predicting he would be detained.
He was right.
Mr. Sagutdinov's encounter with the police in the city of Uralsk on Monday, which was filmed and posted on YouTube, came as the country prepares for a presidential election in June, its first transfer of power in decades.
"I want to show that the idiocy in our country has gotten so strong that the police will detain me now even though there are no inscriptions, no slogans, without my chanting or saying anything,"
Mr. Sagutdinov said in the video.
The New York Times could not independently confirm the events as seen on the video. But the video spread rapidly in the local news media and on social media, and some people posted photos of themselves holding blank signs in support.
On Tuesday, a police statement offered an account of events on Monday in which the authorities received a report of an unknown male standing in the square, holding a placard, with a crowd growing around him. He was detained but released a short time later.
The police statement maintained that the authorities "were acting within the boundaries of the law."
Bolatbek Beldibekov, the head of the local police department's press service, told the newspaper Uralskaya Nedelya, that the offense was not that he demonstrated with the blank placard. Rather, he said, Mr. Sagutdinov ran afoul of the law by making the political statement that "there is no democracy and free speech in Kazakhstan" in a public place.
The episode stood out to human rights watchers as a particularly vivid example of Kazakhstan's restrictions on expression.
On Thursday, as demonstrations were planned on the country's May 9 Victory Day holiday, several major local and international news publications were blocked, and citizens reported that access to Facebook was restricted. One news publication, Vlast, wrote on Facebook that one of its correspondents, Daniyar Moldabekov, was detained by the police despite showing officers his press badge. He was later released.
Kazakhstan's Constitution grants its citizens "the right to peacefully and without arms assemble, hold meetings, rallies and demonstrations, street processions and pickets." But it also allows for restrictions on those rights, and activists say those restrictions have been extensive.
"These authorities are very, very creative in using these provisions of administrative law," said Yevgeniy Zhovtis, director of the Kazakhstan International Bureau for Human Rights and Rule of Law.
Those seeking to publicly demonstrate, either in groups or by themselves, must apply to local officials 10 days in advance, he said. If approved — and many applications are not — the protests will be confined to a few designated areas, he said.
Mihra Rittmann, senior Central Asia researcher for Human Rights Watch, said at least four other people have been detained in the past month for expressing their views publicly, even when the messages did not oppose the government. In one case, an artist was charged with "petty hooliganism" after hanging a banner over a highway with a quote from the Constitution.
Those detained face can face penalties as high as 15 days in prison. One activist was given a 15-day sentence after saying on Facebook he intended to protest before permission had been granted, according to local reports.
Activists say the limits on expression have been in place for decades, but now is a particularly active time politically. Nursultan Nazarbayev, who spent 30 years as president, stepped down in a surprise announcement in March, leading to presidential elections on June 9.
Ms. Rittman said that the episode "speaks to the sensitivities right now in the government."
"This was an extreme and absurd example of the extent to which the authorities in Kazakhstan undermine the right to peaceful assembly," she said.
Oleg Matsnev contributed reporting.
Original source: The New York Times