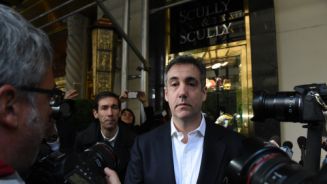 President Donald Trump's former lawyer, Michael Cohen, communicated more than 1,000 times by text and telephone over eight months with the chief executive of a U.S. money-management firm with ties to a Russian oligarch, Special Counsel Robert Mueller's office determined in the summer of 2017.
Five search warrants filed by Mueller's office starting that July were unsealed Wednesday in federal court in Washington, D.C., detailing some of the early suspicions of Mueller's investigators. Exchanges between Cohen and Andrew Intrater, the chief executive officer of Columbus Nova LLC, began on the day of Donald Trump's election, according to a warrant filed in Washington on Aug. 7, 2017.
The government was looking into whether payments from Columbus Nova to Cohen were connected to a plan to give then-National Security Adviser Michael Flynn a proposal to lift sanctions on Russia, according to the filing. Mueller didn't bring any charges related to that inquiry.
"Telephone records related to Cohen's cellular telephone show that on or about Nov. 8, 2016, the day of the presidential election, a telephone registered to Cohen exchanged the first in a series of text messages with the CEO of Columbus Nova," according to one warrant seeking Cohen's electronic communications. The two exchanged 230 phone calls and 950 text messages, it said.
Citing public records and news reports, the government said Columbus Nova is an investment management firm controlled by Renova Group, which is itself controlled by Viktor Vekselberg, a wealthy Russian citizen. Intrater, an American, is a cousin of Vekselberg.
Columbus Nova has denied that it's an arm of Renova Group. Columbus Nova, in a statement sent by a spokesman, played down the significance of the filing. "OMG breaking news: two people who were working together talked on the phone and texted each other. Scroll down to the next story where Bloomberg reports on water being wet!" it said.
The special counsel was also looking into payments from Trump to Cohen as well as money Cohen received from a Kazakh bank and his links to a company doing business in Ukraine. Mueller's office later referred its investigation into Cohen to federal prosecutors in New York.
The relationship between Cohen and Columbus Nova surfaced last May, with reports that the U.S. firm paid Cohen more than $500,000 after the election. The full extent of the contacts between Cohen and Intrater hasn't been reported.
On Wednesday evening, Lanny Davis, a lawyer for Cohen, released a statement about the release of the search warrants.
"These references widely reported in the media about statements contained in the warrant papers are pure innuendo," Davis said. "In fact, Mr. Cohen was not charged with anything to do with these allegations."
The documents unsealed Wednesday show that federal prosecutors had gathered detailed online message traffic by Cohen well before agents raided his office and residences in New York in April 2018. Warrants filed in New York ahead of that raid were unsealed in federal court in Manhattan in March.
Read More: Mueller's Early Scrutiny of Trump Lawyer Rooted in Foreign Ties
Cohen pleaded guilty last year to tax evasion, making false statements to a bank, lying to Congress and violating campaign-finance law. He's serving a three-year sentence in a federal prison in Otisville, New York.
The filings also detail Cohen's extensive overseas contacts. He exchanged more than 80 emails over a five-month period in 2017 with employees of Kazakshstan's BTA Bank JSC, which claims it was defrauded of more than $4 billion by a former chairman.
Cohen's contact for the deal was Kenges Rakishev, the majority shareholder of Kazkommertsbank, another Kazakh financial firm that controls BTA Bank. According to the government's filing, Rakishev is also the son-in-law of Kazakhstan's ambassador to Russia. Cohen was paid $300,000 on a $1.8 million contract to help BTA, a person familiar with the matter said in February.
The search warrant applications show that federal authorities were investigating Cohen for matters including money laundering and violations of the Foreign Agents Registration Act. Cohen wasn't charged with either.
Some of the Cohen-related investigations continue. Parts of the newly unsealed warrant applications were redacted at the request of federal prosecutors, who told a judge that certain information had to be kept secret to protect ongoing investigations, according to court filings. Federal prosecutors in Manhattan continue to investigate matters "pertaining to or arising from Cohen's campaign finance crimes," a federal judge wrote in a separate filing on Tuesday.
(Updates with Lanny Davis statement, beginning in ninth paragraph.)
--With assistance from Erik Larson and Billy House.
To contact the reporters on this story: Shahien Nasiripour in New York at This email address is being protected from spambots. You need JavaScript enabled to view it.;David Voreacos in New York at This email address is being protected from spambots. You need JavaScript enabled to view it.
To contact the editors responsible for this story: Jeffrey D Grocott at This email address is being protected from spambots. You need JavaScript enabled to view it., David S. Joachim
For more articles like this, please visit us at bloomberg.com
Original source: © 2019 Bloomberg L.P.