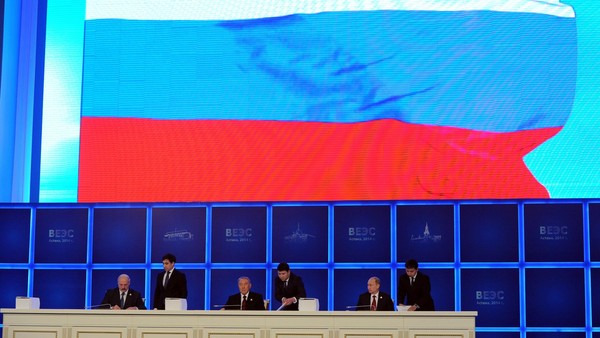 The emergence of the Eurasian Economic Union raises concerns about growing isolation from the west. In the Palace of Independence in Astana, the post-Soviet capital of Kazakhstan, the three heads of state rose to their feet in front of a 1,000-strong audience of senior officials, and somewhat awkwardly gave themselves a round of applause.

Vladimir Putin, Russia's president, hailed the treaty he had just signed with his counterparts from Kazakhstan and Belarus as "of truly epochal significance". Their approval in late May of the Eurasian Economic Union, which goes into force in January, reflected years of efforts to counterbalance the EU.
The economic deal is billed as a way to put the three countries, and possibly Armenia and Kyrgyzstan, on an equal footing. But it reflects broader initiatives by Russia to draw its former Soviet neighbours into an ever tighter embrace, just as the crisis in Ukraine opens a new rift between Moscow and the west.

As sanctions force the Russian economy to turn inwards, there are concerns that a single market with Russia could end up isolating the countries of central Asia and the Caucasus. "They're being trapped on the wrong side of history behind a new iron curtain," says Richard Giragosian, director of Regional Studies Centre in Yerevan.

First proposed by Nursultan Nazarbayev, Kazakhstan's president, at a speech in Moscow in 1994, the Eurasian Economic Union gathered steam at the beginning of Mr Putin's first presidency in 2000. He signed an agreement with half a dozen countries to create the Eurasian Economic Community, which has proved little more than a talking shop.
The global financial crisis breathed new life into more ambitious ideas. In 2010 Russia, Kazakhstan and Belarus established the customs union, and in 2011 they agreed to start moving towards a "single economic space" for labour, capital, services and goods.
In theory, closer integration should bring benefits for the two smaller countries. Their manufacturers will have access to a market of 170m people – more than 10 times the population of either Kazakhstan or Belarus.
For some countries, Russia's pull is irresistible. It accounts for 59 per cent of Belarus's imports and 35 per cent of its exports; its companies are responsible for 49 per cent of foreign direct investment in Armenia; and Kyrgyz workers in Russia send home remittances worth 29 per cent of their country's gross domestic product.

A string of deals by Russian companies to expand control over its neighbours' key industries has cemented longstanding economic, security and cultural ties between Russia and what it calls its near abroad.

Most former Soviet countries have significant ethnic Russian populations – the largest group in parts of northern Kazakhstan. Many host Russian military bases, from the Baikonur cosmodrome in Kazakhstan to the 201st Motorised Rifle Division – Moscow's biggest military garrison abroad – at Dushanbe, the Tajik capital.
Russian television provides much of the news and entertainment for the region's populations. Mr Giragosian points to a recent rise in soft power. "State-controlled Armenian TV is now touting the Russian line over Crimea," he says. "There has been a return of Soviet movie nostalgia."

To Russia's critics, this is evidence that the EEU is a move to "re-Sovietise". Hillary Clinton, then US secretary of state, said in 2012: "It's going to be called a customs union, it will be called Eurasian Union and all of that. But . . . we know what the goal is and we are trying to figure out effective ways to slow down or prevent it."

Tatiana Valovaya, deputy head of the Eurasian Economic Commission, stresses purely economic benefits. Her agency has helped lower trade barriers by persuading Belarus to liberalise fish product imports, for example, and forcing Russian state textile buyers not to discriminate against Belarusian producers.

"We all understand that there are quite a number of exemptions from the freedom of movement of goods, services, capital and labour," says Ms Valovaya. "We are trying to minimise the number of these exemptions."

Kazakh officials believe that their country's less bureaucratic business climate will lure companies hoping to serve the larger Russian market. Last November, work started on a car factory in Ust-Kamenogorsk, not far from the Russian border, designed to produce 120,000 vehicles a year – three times the current production of the whole country. Officials say the prospect of free exports to Russia made the project more attractive.

But the experience of the customs union has left the Kazakh business community wary of further integration. Trade between the three members has risen 47 per cent since its formation in 2010. Yet some companies complain removal of tariffs has made it easier for Russian rivals to compete locally, while Russia has raised other barriers to the import of their goods. Others have suffered as lower-quality Russian products crowd out rival exporters, making it harder and more expensive to buy the parts they need.

Juha Kahkonen, deputy director for the Middle East and Central Asia at the International Monetary Fund, says customs unions tend to increase trade among members. "On the other hand, the customs union diverts trade that would have otherwise been there with third countries," he adds. "The net impact is ambiguous."

What's the economic purpose of Gazprom acquiring the Kyrgyz gas network? It's clear that the goal there was strategic

Peter Foster, president of Air Astana, Kazakhstan's national airline, complains that the union has made it easier for Russian state champions to take local market share. "There has to be a level playing field. Otherwise stronger players will just crowd out the weaker players. That will not be to Kazakhstan's benefit," he says.

More broadly, Russia's economic clout is growing. Its diplomatic embrace of neighbours has been matched by deals and investments, as Russian companies tighten their control of key industries from energy and transport to telecoms. Gazprom, the state-controlled gas company that is considered an instrument of the Kremlin, has been pivotal. In February, it took full control of Armenia's state gas company, renaming it Gazprom Armenia. In April, it paid $1 for Kyrgyzstan's indebted gas company, KyrgyzGaz, now called Gazprom Kyrgyzystan.
Analysts say the push is political. "What's the economic purpose of Gazprom acquiring the Kyrgyz gas network? It's clear that the goal there was strategic," says Alexander Cooley at Columbia University.

The gas giant is not alone. Last September, Russia announced that Rosatom, the state nuclear power company, would help extend the life of Armenia's nuclear power station, and the state-owned Russian Railways would invest $500m in upgrading the country's train network. Rosneft, the state-controlled oil company, has since announced plans to build a synthetic rubber plant in Armenia.
In Kyrgyzstan, Russia Inc has been similarly active. Since February, Rosneft has announced deals to buy a major chain of petrol stations, supply fuel to the airport in the southern city of Osh, and take a controlling stake in the country's main airport for $1bn – which was scuppered by local opposition. Rushydro and Inter RAO, the Russian state electricity companies, are both building hydroelectric power plants in Kyrgyzstan.

. . .

Such moves have raised concerns over Russia's growing role. Baktybek Beshimov, a former Kyrgyz MP now at Harvard, complains that the sales of these assets have turned Kyrgyzstan into a "client state of the Kremlin".

Closer ties with Russia have already generated rare public dissent in countries not known for freedom of speech. In Kazakhstan, three women met in a central square wearing lace panties on their heads. In Armenia, people gathered outside the presidential residence shouting "Russia, go away".

Lilia Shevtsova, an analyst at the Carnegie Moscow Center, says the more forceful approach reflects a shift in policy since Mr Putin returned for a third term as president in 2012. "A key element of the new Putin doctrine is Russia is a superpower. Russia is back. Russia has areas of interest."

Nargis Kassenova, director of the Central Asian Studies Center at Kimep University in Almaty, says: "The political elites in Central Asia are quite alarmed. The rules of the game in the post-Soviet space turned out to be not the ones we thought."

. . .

The region's politicians are quick to reject suggestions that they are being coerced into a Moscow-sponsored project. "Nobody forced us, nobody pressured us," says Temir Sariev, Kyrgyzstan's economy minister. "The customs union is beneficial for Kyrgyzstan and the Kyrgyz people."

Most western experts agree the union treaty signed by the three presidents in Astana at the end of May is indeed economic. It does not touch on political or social policy and it lacks absolute power over the member states. Each country has an effective veto over any of its decisions.

"There is no return to the Soviet Union. Kazakhstan will never allow that," says Erlan Idrissov, the country's foreign minister.

Nonetheless, it is impossible to banish the symbolism of a union with Russia less than a quarter century after the Soviet Union was dissolved. "In every union you have a leader. Of course in the Eurasian Economic Union Russia will be the leader," says Dosym Satpayev, head of Risk Assessment Group, a think-tank in Almaty. "There is this new political strategy of Russia: to collect nations."

Even if the union is strictly economic, officials in Kazakhstan and elsewhere concede that the timing for closer integration with Russia could not be worse. The Russian economy, already slowing before the Ukraine crisis, now faces recession under the burden of western sanctions.

Ukraine can choose between association with the European Union or the customs union. We don't have that choice

The countries of Central Asia and the Caucasus, wedged between the resource-hungry aggression of Russia and China and the instability of Afghanistan and Iran, have always needed to balance the interest of larger powers. For some, that has been a profitable exercise as they play off competing interests from Russia, China and the US. Kazakhstan vaunts its "multivectorism"; Armenia talks of "complementarism".

But their choices are restricted. As Almazbek Atambayev, Kyrgyzstan's president, who attended the Astana ceremony, recently said: "Ukraine can choose between association with the EU or the customs union. We don't have that choice."

As Russia becomes increasingly isolated from the west, its neighbours will be forced to choose their allegiances.

"It might become more and more difficult to sit on two chairs at the same time," says Andrei Kortunov, director of the Russian International Affairs Council in Moscow.

Mr Idrissov, the Kazakh foreign minister, concedes that Astana is worried. "The overall situation of course always forces us to choose and balance," he says. "But a balancing act can be of different degrees of difficulty. Today it's a very difficult balancing act."

-------------------------------------------

China and Central Asia: Search for a counterweight to Russia

A week before he signed the Eurasian Economic Union into existence in Astana last month, Kazakhstan's president was in China.

Following a meeting with president Xi Jinping, Nursultan Nazarbayev announced a string of agreed investments in Kazakhstan. China become involved in the production of oil and gas pipes, a coal power station, fertilisers and herbicides.

"Kazakhstan and China have much common ground on major issues," he said. "Both sides stick to the principle that countries have the right to choose their own development path."
As Russia becomes increasingly forceful in its embrace of its former Soviet neighbours, many of these countries are seeking a counterweight in China.

In Central Asia, the Chinese figured out very early on that Russians are obsessed with status

Beijing has gone on a shopping spree in Central Asia in recent years, striking energy supply deals, building pipelines and buying production assets.

According to the state news agency Xinhua, Chinese trade with the five former Soviet countries of Central Asia rose 13 per cent to $40bn last year.

In Kazakhstan, China has bought up large swaths of the energy industry and Chinese companies now account for about a quarter of Kazakh oil production, according to President Nazarbayev.

Last year, CNPC bought an 8.3 per cent stake in Kashagan, an enormous but troubled oilfield in the Caspian Sea, for $5bn.

With the US last week closing its sole air base in the region (at Manas, in Kyrgyzstan) following President Barack Obama's decision to pull troops from Afghanistan, China is the only viable political alternative to Russia for Central Asian governments, says Alexander Cooley, a Central Asia expert at Columbia University.
But he adds that China shows no desire to use its economic clout to challenge Russia politically in the region.

"In Central Asia, the Chinese figured out very early on that Russians are obsessed with status. They figured out that it was relatively costless for them to say, 'of course this is Russia's sphere of influence'," he says.

Le Yucheng, China's ambassador to Kazakhstan, says that it would be a mistake to think of China and Russia as competitive powers in the region.
"The co-operation of one or another country with Kazakhstan is not a zero-sum game," he says. "No one stole anyone else's cheese."
The Financial Times