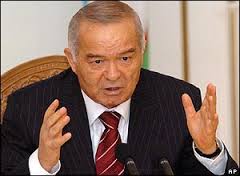 Uzbekistan's president on Friday criticised a new economic union clinched last month between Russia, Belarus and Kazakhstan, warning of a loss of political independence for the ex-Soviet countries.


President Vladimir Putin and his Belarussian and Kazakh counterparts signed a deal on May 29 creating an Eurasian Economic Union that guarantees the free circulation of goods, services, capital and labour.


"They say they are only creating an economic market and they will not in any way give up their sovereignty and independence," Islam Karimov said of the union set to come into force January 15 next year.


"Tell me, can there be political independence without economic independence?"

Karimov was speaking to foreign diplomats, international experts and investors in the agricultural sector at the opening of an international conference on food security in Tashkent.


Kazkah President Nursultan Nazarbayev said last week that the bloc of Kazakhstan, Russia and Belarus was fully self sufficient in food and energy.


Years in the making, the economic union is hugely symbolic for Putin although he had to go ahead without the planned inclusion of Ukraine following the pro-European uprising that ousted its Kremlin-allied leader.

While two other ex-Soviet states, Kyrgyzstan and Armenia, are on track to join the union, energy-rich Uzbekistan, led by Karimov for more than two decades, has consistently opposed the plan.

"History cannot be reversed," Karimov said in 2011.


Uzbekistan, once the largest cotton producer of the Soviet Union, has slashed its cotton fields to grow food, halfing its annual cotton production in comparison with the Soviet era.The country now produces enough food to be self-sufficient, officials say.

It has gone from a grain importer to an exporter and is one of the largest fruit and vegetable producers among ex-Soviet republics.


But Jose Graziano da Silva, Director-General of the United Nations' Food and Agriculture Organization, said despite its achievements the country would benefit from regional integration.

"For a country in this globalisation process it is not possible to achieve food security alone," he said.
TASHKENT, June 7 (AFP)
thefinancialexpress-bd.com