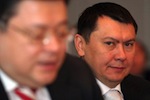 Family friend of former son-in-law of Kazakh dictator says Aliyev is no longer on the island. Questioned about the whereabouts of the former deputy head of the Kazakh secret service Rakhat Aliyev, international journalist Alexander Narodetsky told investigators that it is so obvious that neither Aliyev nor his wife were in Malta, that "even little kids knew it".
Taking the witness stand in a challenge filed by former bodyguards Satzhev Ibraev and Pyotr Afanasenko, inspector Raymond Aquilina gave details about inspections carried on residences belonging to or having been previously leased to Rakhat Aliyev or his wife Elnara Shorazova.

Ibraev and Afanasenko claim they were tortured, on Aliyev's orders, to extract a false confession that their boss, former prime minister Akezhan Kazageldin, was plotting a coup against Aliyev's father-in-law, Kazakh dictator Nursultan Nazarbayev.

The witness gave details of his meeting with international journalist Alexander Narodetsky. Refusing to state whether or not the journalist is infact being investigated, the inspector said that Narodetsky had in the past years resided in an apartment at Pender Pace, which was leased to Shorazova.

"I knew he had very strong ties with Aliyev's family, because it was he who had accompanied Aliyev and his wife to my office. Recently, Narodetsky called at my office on voluntary basis and I asked him of Aliyev's whereabouts", Inspector Aquilina said. However the journalist replied that even a little boy could tell him Aliyev was no longer in Malta.

"I have checked an address at Triq il-Pont, Mellieha, where Aliyev resided in 2012. Checks were also carried out at his Madliena residence, and at apartments in Pender Gardens and Fort Cambridge, all with negative results.

"However I met the person who maintains the residences in Aliyev's absence and he confirmed he had last seen him in person in July 2013. The same person also confirmed he had last seen Shorazova last September", the inspector said.

Further investigations led the police to believe that a number of residences are in the process of being placed on the market for lease or sale. Cross examined by the defence over the actual ownership of the residences, Inspector Aquilina explained how they were either leased to Aliyev's wife or owned by the couple through trusts and fiduciaries.

Before concluding his evidence, the inspector said that the main airlines operating from Malta had ruled out that any member of Aliyev's family had used their services to travel to or from the island. "However I have information that Aliyev always travelled by private jet leased from a foreign country. Moreover, no records of his movements are kept as he is married to a resident of the EU".

The court will reconvene on 19 May.
MaltaToday.com.mt