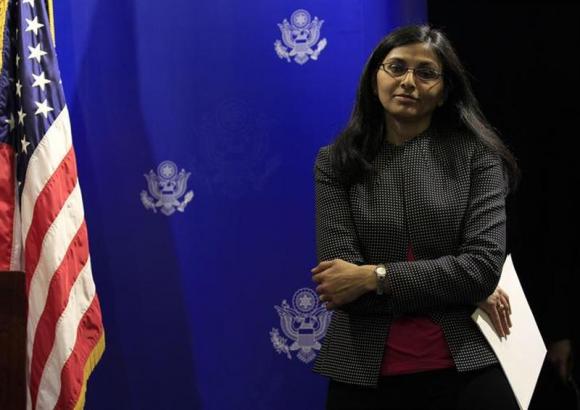 The United States will "fundamentally stand" with post-Soviet Central Asian nations to protect their territorial integrity and independence, a senior U.S. official said on Wednesday, sending a signal to Russia after its annexation of Crimea from Ukraine. Russia's seizure of the Black Sea peninsula two weeks ago sent jitters across Central Asia, whose mainly autocratic rulers tacitly accepted Moscow's actions, fearing their former overlord may use a similar tactic in their states.
Russian President Vladimir Putin is now seen turning to Central Asia as he pursues his goal of creating the Eurasian Economic Union, which critics see as an attempt to restore the former Soviet Union.
"With respect to whether or not we are worried about the countries of the region, I would just reiterate that we are friends and partners and we fundamentally stand with them on their sovereignty, their territorial integrity and their independence and support them in that endeavour," U.S.
Assistant Secretary of State for South and Central Asia Nisha Desai Biswal told Reuters in an interview. "I think that Russia increasingly is aware of the fact that that is the global consensus," she said during a visit to Kazakhstan's commercial capital Almaty.
Kazakhstan, Central Asia's largest economy and the second-largest post-Soviet oil producer after Russia, is a close ally of Moscow. Kazakh President Nursultan Nazarbayev said last month that he "understands" Russia's actions in Ukraine.
Together with Russia and Belarus, Kazakhstan aims to sign a basic agreement this year to form the Eurasian Economic Union, seen as a regional counterbalance to the European Union. "The terms and the conditions of the Eurasian Economic Union are still quite unclear to us," Biswal said.
"Our Kazakh friends...have made it clear they don't see this as an exclusive relationship, and that they intend to pursue WTO accession and that they would like to see increasing trade with the United States, with the West, with South Asia." "NO PLAN TO CONTAIN RUSSIA OR CHINA" Biswal will also visit Kazakhstan's much poorer and highly volatile neighbour Kyrgyzstan this week.
Kyrgyzstan, where two presidents were deposed by popular revolts since 2005, is struggling to build the first parliamentary democracy in the authoritarian region. It has extended the lease on Russian military bases on its territory in return for Moscow's economic assistance and passed a law setting a deadline for the withdrawal of a U.S. Air Force transit centre from its main civilian airport Manas. The last U.S. soldier is to leave the country by July 10.
As U.S.-led forces prepare to leave next-door Afghanistan this year, Moscow has clinched a deal with Kyrgzstan's neighbour Tajikistan to extend by three decades the rent of its base there, the largest land deployment of Russian troops abroad.
On the economic front, giant neighbour China has been strengthening its clout in the resource-rich region, buying into Kazakhstan's oil industry and securing increasing natural gas supplies from Turkmenistan and Uzbekistan. "We are not seeking to contain or constrain Russia, we are not seeking to contain or constrain China, we are seeking relationships that adhere to international norms and respect international law, that respect international boundaries," Biswal said. "We have no intention of seeking any permanent bases in any of the countries of the region, we made that very clear." (Reporting by Dmitry Solovyov; Editing by Angus MacSwan)
Read more at:
www.firstpost.com