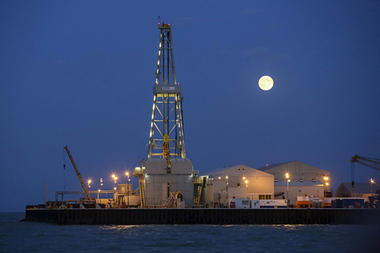 Should EU and US sanctions hit Russian energy exports, Kazakhstan will suffer collateral damage via their participation in a regional oil pipeline consortium, according to Oil & Energy Insider. What might Putin's actions in Crimea mean for Kazakhstan, where foreign investors since 2005 have poured more than $170 billion in FDI into the country, primarily in the energy sector? In 2013 Kazakhstan's oil production surged to roughly 1.64 million barrels per day. Kazakhstan has three percent of the world's raw materials, with nearly 40 billion barrels of oil reserves and two percent of global production.
The wild card is the Eurasian Customs Union (ECU), founded in 2005 binding Belarus, Russia and Kazakhstan, which is due to be replaced by the Eurasian Economic Union (EEU) on 1 January 2015. The Russian-dominated union will potentially control one-third of the world's proven natural gas reserves. Putin's EEU Eurasian integration vision is widely perceived as an ideological alternative to the EU, "Soviet Union lite." Ukraine had under Ukrainian President Viktor Yanukovich been negotiating to join the EEU. In an indication of the EEU's importance to Putin despite rising tensions with Ukraine, which increased after Yanukovich fled to Russia on 22 February, on 5 March Putin convened a snap summit in Moscow. There the Belarusian president Aleksandr Lukashenko and Kazakh president Nursultan Nazarbayev reaffirmed their support for signing a treaty establishing the EEU to supercede the ECU by May 2014 at the latest, in less than two months. Sixteen days later, Putin signed legislation formally annexing Crimea, leading the U.S., EU and other nations to begin imposing sanctions.
Should these sanctions come to include Russian energy exports, the Kazakhs will suffer collateral damage via their Caspian Pipeline Consortium (CPC) Tengiz CPC Blend pipeline export shipments to Russia's Black Sea terminal at Iuzhnaia Ozerreevka near Novorossiisk, which make up roughly 45% of the pipeline's throughput. In a sign of potential cost to Russia and Kazakhstan, CPC reported that exports hit a monthly high in February due to expansion of the pipeline's capacity, rising to 909,694 barrels per day from 744,454 bpd in January. In 2013 CPC exports rose to 32.7 million tons in 2013 from 2012 throughput of 31.8 million tons, and CPC plans to expand the pipeline's capacity to 48 million this year. If sanctions are imposed, then the CPC consortium members, Russian state-owned pipeline monopoly Transneft, the state of Kazakhstan, U.S. oil company Chevron and Russia's LUKOIL will all suffer.

Given Putin's intense interest in furthering the project, which involves closer economic integration between the three member states, the major question is - will the EEU draw Kazakhstan further into Moscow's orbit, or will Kazakhstan be able mitigate Moscow's influence and retains its Western leanings?
Billions are riding on the outcome, for both foreign investors and Kazakhstan.
Quite aside from any EEU future policy decisions impacting foreign investment, Kazakhstan has already proven itself willing to play hardball with investment deals it feels are iniquitous. Its massive offshore Kashagan Caspian Sea field, discovered in 2000, is the world's largest oil "super" field uncovered in the last 30 years, the year after Kashagan was discovered, Kazakhstan signed a North Caspian Sea Production Sharing Agreement, under which Italy's Eni under the joint-venture company name of AgipKCO (Agip Kazakhstan North Caspian Operating Co.) managed Kashagan. AgipKCO consists of Kazakhstan's national hydrocarbon concern KazMunaiGas and Japan's Inpex, both of which originally held an 8.33 percent share in the project, while ConocoPhillips held a 9.26 percent share. Four major foreign oil companies currently dominate the project - Eni, France's Total, U.S. ExxonMobil and Anglo-Dutch Shell, which all held 18.52 percent stakes each. In autumn 2007, however, the Kazakh government, citing environmental concerns and cost overruns, renegotiated the PSA agreement. When the dust settled in January 2008, KazMunaiGas increased its share in the Kashagan project from 8.33 percent to 16.81 percent as a result of its foreign consortium partners grudgingly surrendering 2 percent apiece of their stake while agreeing to pay up to $5 billion as compensation for lost profits due to cost overruns and significant delays in commercial production.
Background
Russia, Belarus and Kazakhstan signed a treaty establishing the Eurasian Customs Union (ECU), a sort of post-Soviet counterweight to the EU on Oct. 6, 2007. Three years later, the ECU took effect on Jan. 1, 2010, and most tariff barriers were removed by July 2011.
The ECU has proven a mixed blessing for Kazakhstan. One of the most immediate impacts of the implementation of the ECU was the rise of import tariffs in Kazakhstan, as Kazakhstan's tariff structure was much lower than in Russia before the country joined the ECU. The direct impact of a higher external tariff on Kazakhstan and Belarus caused a substantial increase in their imports from Russia and the displacement of imports from both the EU and China. Kazakhstan's negative trade balance with Russia and Belarus increased from approximately $8.5 billion in 2011 to almost $11 billion in 2012, as more expensive Russian goods replaced cheaper imports.
The ECU's economic potential is significant, as it represents a market of 165 million people, and a combined GDP of around $2.3 trillion and an annual goods turnover of approximately $900 billion. Russia accounts for 86% of the ECU's GDP and 84% of its population. Kazakhstan accounts for 8% of GDP and 10% of the ECU population, while the Belarusian economy and population both amount to approximately 5% of the total. Given Russia's economic dominance within the ECU, Russia's rising disputes with the West over its Ukrainian policies will produce economic consequences, which will cause both Kazakhstan and Belarus collateral damage.
An example of the ECU's members' vulnerabilities is how Russia's economy can negatively impact its neighbors. The ruble has lost almost 10 percent against the euro-dollar basket since the start of 2014. On 11 February Kazakhstan subsequently devalued the tenge by 19 percent, saying the Russian ruble's plunge to a record low put additional pressure on its currency. The ruble's decline in the wake of rising tensions with Ukraine in early March cost Russia's top 20 banks 216 billion rubles ($5.9 billion). On 3 March Russia's Central Bank intervened to slow the ruble's decline, spending $11.3 billion. The Central Bank's intervention was four times larger than the previous record set in September 2011. Should Putin's Ukrainian policies further strain relations with the West, more economic fallout will certainly follow.
Another fiscal threat that the ECU has failed to quell is inflation. In January-February 2014 the inflation rate in the ECU member states stood at 1.5%. In the first two months of 2014 the prices increased 3.6% in Belarus, 2.3% in Kazakhstan, and 1.3% in Russia. According to the Eurasian Economic Commission (EEC), the inflation rate on an annualized basis (as against February 2013) reached 6.6% in the ECU overall, 15.7% in Belarus, 5.4% in Kazakhstan, and 6.2% in Russia.
Kazakhstan's shrinking multi-vector opportunities
In the quiescent days before the Crimean debacle, it seemed that Kazakhstan could have it all – a role as east-west interlocutor, future member of the World Trade Organization. Membership in the Customs Union and its future replacement EEU was merely another string in Astana's options. Now, the EEU may well prove a millstone around Kazakhstan's neck.
Lukashenko, Nazarbayev and Vladimir Putin met on 29 May 2013 in Astana to discuss the Customs Union and its eventual replacement by the EEU. Nazarbayev said, "I would like to emphasize this is a purely economic integration. It is based on pragmatism, the mutual benefit of all states and the union as a whole." Putin in turn remarked, "We can see how much personal attention you pay to the development of Russian-Kazakh relations. Due to this direct participation, our relations are developing very quickly and efficiently, and our trade volumes are growing. You definitely are the leader in the integration processes."
Differences of opinion
The Russian government portrays the EEU as a positive step. According to analysts at the Institute of Economic Forecasting of the Russian Academy of Sciences, the creation of the Customs Union between Belarus, Kazakhstan and Russia will stimulate economic development and has the potential to provide an additional 15 percent GDP growth for the participating countries by 2015.
In Kazakhstan however, voices are beginning to be raised questioning the wisdom of closer economic integration with Russia, even within Nazarbayev's ruling Nur Otan party.
A Parliamentary deputy of the governing Nur Otan party, Murat Abenov, has become a vocal critic of the wisdom of closer economic relations with Russia in interviews and social media posts. In a 12 February interview for the online publication Kursiv.kz, Abenov linked the tenge's devaluation with Kazakhstan's ECU membership, commenting, "Where can we escape from a submarine! In the ECU we are so attached to Russia that now we have to listen to everything that is happening there. If a neighbor sneeze, we now at the very least will get the flu."
On 4 March a group of Kazakh civil society activists launched the "Anti-Eurasian Economic Union" movement. At a press conference the activists appealed to people to come to a rally on 12 April to protest and voice their opposition to EEU accession.
Conclusions
The mere fact that Putin is such a strong supporter of the EEU ensures that it will go forward, and energy investors there should take careful note. While Nazarbayev had hoped to use Russia to balance out China's economic influence in the Central Asian country, the political Eurasian matrix has now changed. Putin's doctrine of reserving the right to use military force to protect ethnic Russians as in Crimea has reverberations in the ECU, as nearly a quarter of Kazakhstan's population and eight percent of Belarus claim Russian ethnicity. But, as noted above, the ECU and future EEU will ensure that member states will be impacted by Western punitive sanctions over what Western governments perceive as Russian aggression, which makes Western energy investment in Kazakhstan a hostage to fortune. Until the parameters of the EEU become more clear, wise investors should avoid further FDI there.
Source: Oil and Energy Insider