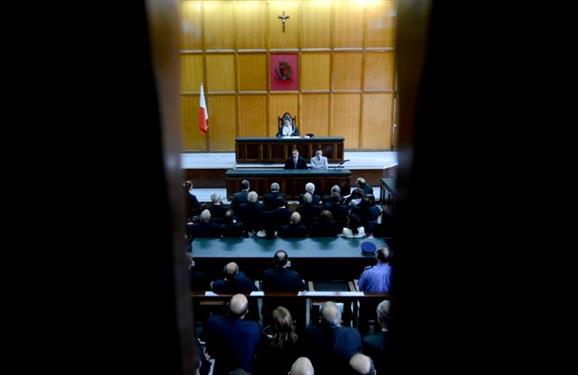 Rakhat Aliyev's name is back in a Maltese court even though he may be thousands of miles away in some other country. This is because two former bodyguards have launched a fresh challenge for the Police Commissioner to investigate their claims that they had been tortured on orders of the millionaire and Kazakhstan's former Vice Foreign Minister and later, Ambassador to Austria. The new challenge was made after a court had thrown out a first challenge for the police in Malta to investigate him for alleged crimes against humanity.
Aliyev had lived in Malta but the court was told yesterday that he left in August.
Lawyer Cedric Mifsud, representing Pyotr Afanasenko and Satzhan Ibraev said the former bodyguards had formally made the challenge to the police in May and now they had been told that Mr Aiyev had left Malta. He asked why action was not taken against him.
Aliyev had been granted freedom of movement up to July 2014, so legally, he was still considered to be in Malta. He had freely made statements to local newspapers and he had challenged them to launch a civil claim in Malta, thus subjecting himself to Maltese jurisdiction.
Dr Mifsud said Aliyev had an 'incredible' list of properties in Malta, including residences in Qui Si Sana, Mellieha and Fort Cambridge. He had applied for citizenship in Cyprus, giving a Pender Gardens address in Malta. Most of the properties were in his wife's name.
The Deputy Attorney General, Donatella Frendo-Dimech insisted that the police were not at liberty to take action because the prerequisites did not exist. The Police Commissioner would have broken the law had he proceeded with an investigation because of jurisdiction issues. He had now left the island.
Joseph Mizzi, former director of the Citizenship Department, says Mr Aliyev was married to an Austrian and therefore enjoyed freedom of movement, like all EU citizens.
When he came to Malta, the law allowed him to become a permanent resident while benefiting from a tax scheme, or invoke his freedom of movement rights under EU law. But he could not invoke both.
Dr Frendo-Dimech said that once he opted not to be a permanent resident, the police had no jurisdiction.
Police Inspector Raymond Aquilina said it appeared that Mr Aliyev was not in Malta. He last spoke to him in May last year. His lawyer, Joseph Giglio, had been accepting a court summons on his behalf but stopped after he lost contact with him.