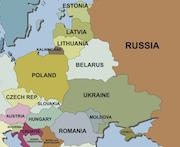 The top man at NATO has accused Russian President Vladimir Putin of an outrageous push to redraw the world map. The U.N. secretary-general warned darkly on Thursday that small incidents can "quickly lead to a situation spiraling out of anyone's control." And now other countries in the neighborhood are nervously looking over their shoulders. Russia experts stress that it is extremely unlikely Russia would embark anytime soon on a military adventure beyond Ukraine. Putin has enough problems at home, including an unsteady economy that may be hit soon by broad U.S. sanctions.
But as Russia locks down the Crimean peninsula — Ukraine is already planning to withdraw its troops in what amounts to a military surrender — here are the next places to watch in the West's confrontation with Putin.
Eastern Ukraine
The most immediate, alarming question is whether Putin has sights on pushing into the tinderbox of eastern Ukraine — heavy with the ethnic Russians he claims to be protecting and industrially vital to the Ukrainian economy.
Russia has said that it has no designs on the Ukrainian mainland. But it has put 20,000 troops, heavy armor and aircraft on the Ukrainian border, raising serious concerns at the Pentagon, U.S. officials said Thursday. One Pentagon official told NBC News: "It's like they're on a hair trigger."
"Things are so tense that simply any stray bullet, any act of violence, could trigger a massive response on either side," said William Pomeranz, deputy director of the Kennan Institute for Advanced Russian Studies at the Wilson Center.
It's not an abstract threat. Clashes have erupted in eastern cities between demonstrators who support the government in Kiev and those who align more with Moscow. Ukrainian officials say the pro-Russia protesters are Kremlin agitators.
And Ukraine's ambassador to the U.N. said in Geneva on Thursday that there are indications Russia "on its way to unleash a full-blown military intervention in Ukraine's east and south."
Another possible flashpoint: Separatist groups in eastern Ukraine could call for a referendum similar to the one Sunday in Crimea, which voted overwhelmingly to break away and join Russia.
Moldova and Kazakhstan
Russia experts say these are the next two countries to watch. Neither is part of NATO, which guarantees that it will defend against an attack on any of its member states.
Moldova, a sliver of 3.6 million people between Ukraine and Romania, has a rebellious region of Russian speakers called Transnistria that considers itself independent but is not recognized by the rest of the world.
Russia already has a small contingent of so-called peacekeepers there, looking after old Soviet weaponry. The president of Moldova warned Russia this week not to try anything.
"The Moldovan government has tremendous concern right now about what the situation in Ukraine is going to mean for them," said James Goldgeier, dean of the School of International Service and American University.
There could be a split: Moldova is considering applying to join NATO, while Transnistria could make a Crimea-style move and ask Russia for annexation.
Kazakhstan, which sits between Russia and China, has a large percentage of ethnic Russians — roughly a quarter.
The president there, Nursultan Nazarbayev, is a strong advocate of Kazakh sovereignty but has "played both sides of it," Pomeranz said. Last week he told Putin over the phone that he understood Putin's logic in Ukraine.
As Kazakhstan has strengthened its national identity in the two decades since the collapse of the Soviet Union, some ethnic Russians have come to feel that their status and their role in the country's affairs have been diminished.
"The question is: Will someone use that as a spark for grievances and interference?" said Andrew Weiss, vice president for studies at the Carnegie Endowment for International Peace.
But the relationship between Russia and Kazakhstan is relatively strong, and "my sense is that both sides are really careful," he said.
The Baltics
Lithuania, Latvia and Estonia are all members of NATO, and are sufficiently anxious about Russia that Vice President Joe Biden made a trip to Lithuania this week to reassure leaders there. The defense minister of France is headed to the region on Friday to talk about ways to boost their security.
Russia made waves on Wednesday when an official expressed concern for the large minority of ethnic Russians in Estonia, the same justification it gave for invading Crimea.
Biden told the president of Estonia that the U.S. may conduct military training exercises in the region. The United States has already added fighter jets to patrol the skies over the Baltics.
Putin has made clear, and signaled again in a defiant speech on Tuesday, that he is deeply irritated by NATO's expansion to the east. By menacing the Baltic states, he may think he can sow doubt about "whether their membership is worth what they think it is," Goldgeier said.
But because of NATO's defense commitment, Russia experts say it's extremely unlikely that Russia would make any overt move there.
"That would just be an order of magnitude of escalation beyond anything we've seen," Goldgeier said.
Pomeranz said that he expects Russia to move one step at a time and doesn't foresee any Crimea-style incursions beyond Ukraine anytime soon. Russia has internal problems to wrestle with and won't overextend its military, he said.
"Unless Putin is the ultimate risk-taker," he added. "Which he might be."
Jim Miklaszewski and Courtney Kube of NBC News contributed to this report. Reuters also contributed.
NBC News.com