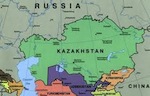 Kazakhstan's parliament is to discuss the possibility of introducing legal sanctions against "lesbianism," a member of the lower house revealed on January 14 in remarks that will alarm Kazakhstan's low-profile lesbian, gay, bisexual, and transgender (LGBT) community.
Parliamentarians are to raise the question of "bringing to book" for "lesbianism and other aspects of the sexual and gender sphere," deputy Nurlan Abdirov told a session of the lower house's legal affairs committee in vaguely worded remarks quoted by Tengri News. Deputies plan to hold "special themed sessions and round tables" on the topic, he said, without offering further details.
So far no bill has been drawn up and the type of discussions Abdirov is proposing would not carry legal force. Nevertheless, the remarks are alarming for the embattled LGBT community, which was shaken by a spate of homophobic outbursts in parliament last year.
MP Kairbek Suleymenov was the first to speak out, demanding "mechanisms" to counteract gay marriage as "alien" to national traditions, in response to a symbolic lesbian wedding held last April in Karaganda. But no legal mechanism for gay marriage exists or is planned in Kazakhstan.
In May MP Aldan Smayyl took up the baton, describing homosexuality as "amorality" and called for legislation to class homosexuals as "criminals against humanity."
In October another deputy, Bakhytbek Smagul, called for legislation to "root out homosexual relations," and urged Kazakhstan to adopt a law banning "propaganda" of homosexuality, similar to controversial legislation adopted in Russia last year.
Such hostile public rhetoric has mainly been confined to parliament (although online debates are also full of it), and the administration of President Nursultan Nazarbayev has shown no sign of encouraging it.
However, campaigners are concerned that the inflammatory talk encourages public hostility toward the LGBT community. The only comprehensive study of Kazakhstan's LGBT community, published by the Soros Foundation-Kazakhstan in 2009, revealed that it faces profound discrimination and uncovered "dramatic and disturbing evidence of homophobic and transphobic antagonism and violence toward LGBT people." [Editor's note: The Soros Foundation-Kazakhstan and EurasiaNet.org are separate entities operating under the auspices of the Open Society Foundations.]
EurasiaNet.org