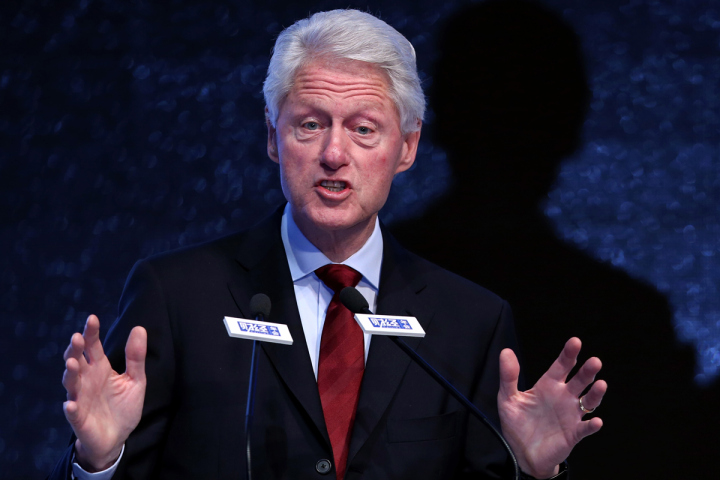 Bill Clinton was paid an estimated $275,000 to speak at the glittering Center for Global Dialogue and Cooperation gala in Vienna — but the ex-president pulled out hours before the event after the organization's founder was convicted of international economic espionage.

Bubba was to be guest of honor at the CGDC Awards ceremony and dinner at Hercules Hall at the Garden Palais Liechtenstein on Dec. 4, where he would hand awards to European Commission president José Manuel Barroso, Republic of Kazahkstan President Nursultan Nazarbayev and Felix Baumgartner, the crazy skydiver who jumped from space last October. Other esteemed guests included Gen. Wesley Clark.


But having flown to Vienna on a private jet, Clinton abruptly canceled his appearance after CGDC founder Stamen Stantchev was sentenced in Romania to 11 years in prison.

A source tells us, "Clinton had arrived in ­Vienna, but canceled at the last minute with no explanation." Instead, Bubba made a jovial visit to the US Ambassador, Alexa Wesner.

According to the Vienna-based CGDC's Web site, global consultant Stantchev advises companies including Credit Suisse Bank London and the Czech electricity company. He's the founder of ­Energan, which provides consulting and lobbying services in Central and Eastern Europe.

According to reports, a Romanian court sentenced Stantchev, in absentia, to 11 years behind bars on Dec. 4, the day he was to rub shoulders with Clinton. Two Romanian ex-ministers were also convicted. The court ruled the group had formed an espionage network to steal state secrets and insider information to win consulting contracts. The verdict can be appealed.

The CGDC reportedly demanded all the money paid to Clinton be returned, including his fee and the cost of a private jet and hotel suite totalling more than $300,000. A Clinton rep said, "Circumstances changed, and a decision was made for him not to give the second speech in Vienna . . . At [his] request, the CGDC were informed immediately their fee would be returned in full."