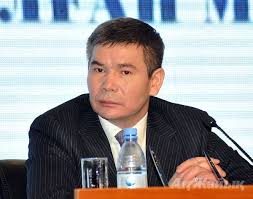 Kazakhstan's financial police said a former Atyrau regional governor, Bergei Ryskaliyev, and his associates committed crimes that caused 71 billion tenge ($459 million) in damages to the state and individuals. The results of an investigation against 22 men were transferred to the Prosecutor General's Office to start court proceedings, the agency in the capital, Astana, said by e-mail today. Ryskaliyev, his brother Amanzhan and nine other people are on an international wanted list, the agency said.

President Nursultan Nazarbayev, who has ruled the central Asian nation since 1989, has replaced top government officials and the head of state energy producer KazMunaiGaz National Co. after oil-rich western Kazakhstan suffered labor strikes and violent protests in 2011 when workers demanded higher pay in the Mangistau region. In neighboring Atyrau, authorities have investigated planned terrorist attacks and clashed with suspected militants.

Ryskaliyev, who took charge of Atyrau's regional administration in 2006, stepped down on Aug. 16 last year after meeting with Nazarbayev. The country's financial police said at the time it opened an investigation against unidentified Atyrau regional officials for embezzling 3.5 billion tenge during privatization of local properties.
Kazakhstan recovered 23.6 billion tenge of losses it alleges were caused by Ryskaliyev and his associates, the agency said today. The financial police had arrested 580 items of property valued at 42 billion tenge, including 73 land plots, 13 houses and 197 cars, according to the statement.
Ryskaliyev's whereabouts are unknown.
Kazakhstan ranked 140th out of the 177 countries surveyed worldwide in Berlin-based Transparency International's 2013 Corruption Perceptions Index, alongside Honduras, Laos and Uganda.
To contact the reporter on this story: Nariman Gizitdinov in Almaty at This email address is being protected from spambots. You need JavaScript enabled to view it.
To contact the editor responsible for this story: Stephen Voss at This email address is being protected from spambots. You need JavaScript enabled to view it.
Bloomberg.net