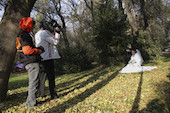 Given the choice between love and money, Samal, a tall, curly-haired 23-year-old woman from a village in southern Kazakhstan, would take the cash. Struggling to pay rent and tuition on her salary as a waitress in Almaty, the Kazakh commercial capital, Samal says she'd drop her boyfriend in a heartbeat if a wealthy older man offered to make her his second wife.
"Becoming a tokal would be a fairy tale," Samal says during a break at the cafe where she works, using the Kazakh word for the youngest of two wives, who traditionally gets her own apartment, car and monthly allowance.
STORY: Why Are Women So 'Bitchy' to Each Other?

The gulf between rich and poor "exploded" in Kazakhstan, the world's largest uranium supplier and the second-largest oil producer in the former Soviet Union, after independence in 1991 and the gap hasn't closed, said Gulmira Ileuova, head of the Center for Social and Political Research Strategy in Almaty. President Nursultan Nazarbayev, in power for more than two decades, undertook a state asset-sale program in the 1990s that enriched a group of insiders at everyone else's expense, Ileuova said by phone on Nov. 27.
That gap is fueling a revival of polygamy, which has become a status symbol for affluent men and a ticket out of poverty for young women. The practice flourished in this Central Asian nation for centuries, first as part of its nomadic culture and later under Islamic Sharia law, until the Bolsheviks outlawed it in 1921. The trend has spawned two best-selling novels and a television talk show.
Polygyny, Polyandry

"It's become prestigious to have a tokal," Ayan Kudaikulova, an Almaty socialite and author of one of those novels, said in an interview in her cafe, surrounded by purple walls and bearskin rugs. "They're like Breguet luxury watches," Kudaikulova said, wearing a red Alexander McQueen pantsuit and an Alain Silberstein timepiece. "Unfortunately, not having a junior wife is now shameful for wealthy men."

Before the Soviets took over following the 1917 Russian Revolution, many rich Kazakhs would buy second wives from parents, often with livestock, which helped spread wealth. Those unions were governed both by common law and Sharia. Polygamy is still technically illegal, though there's no prescribed punishment for it as there is in neighboring Kyrgyzstan, where the maximum penalty is two years in prison.
Kazakh lawmakers have tried to legalize polygyny, having two or more wives, at least twice since 2001, most recently in 2008, when the measure failed after a female parliamentarian insisted on including polyandry, or multiple husbands, as well.
Women's Rights

More than 40 countries, almost all in Asia and Africa, still recognize polygamous marriages, even though the United Nations said in a report in 2009 that the practice "violates women's human rights and infringes their right to dignity."
A poll published last year by state-owned news service Kazinform found 41 percent of Kazakhstan's 17 million people favored legalizing polygamy. Twenty-six percent said they opposed it, 22 percent had no preference and 11 percent thought it would be a waste of time because the practice already exists, according to Kazinform.
The Spiritual Department for Muslims of Kazakhstan, a Almaty-based nongovernmental group that operates most of the country's mosques, said it urges all young men to marry and start a family. If a man wants to have a second wife and hold a religious wedding ceremony, called Nikah, in a mosque, the senior wife must attend to ensure all parties are in agreement, the department said in an e-mailed reply to questions.
Mosque Marriage

About 10 percent of all Nikah ceremonies in Almaty's largest mosque now involve tokals, according to a senior cleric who asked not to be identified because the practice isn't officially recognized. More than 3,000 couples will get married at the main mosque this year, about 30 percent more than in 2008, the cleric said.
STORY: What a Higher Minimum Wage Does for Workers and the Economy

"Tokalism has started to become noticeable," said Ileuova of the Center for Social and Political Research Strategy. "That's in part because 50 percent of the population is poor."
Kazakhstan has enjoyed an oil boom that has boosted gross domestic product about 12-fold in the past two decades, to about $200 billion last year, though even Nazarbayev, the son of a shepherd, admits that the expansion hasn't benefited everyone.
"The question is not how we develop the level of GDP per capita," Nazarbayev, 73, said in televised comments in April. "We must see how many people we have in poverty, the gap between rich and poor. The gap is significant."

Deadly Riot

Police used arms to suppress unrest in the town of Zhanaozen in 2011, when a strike over wages by oil workers at state-run KazMunaiGas Exploration Production led to rioting that left at least 14 people dead.
About 56 percent of Kazakh households, or about 9 million people, earn less than 36,000 tenge ($236) a month, while 1.5 million people earn less than 15,000 tenge, Nazarbayev said.
Credit Suisse Group AG estimated in a report last year that 91 percent of Kazakhs have less than $10,000 of assets, while 8.6 percent have $10,000 to $100,000. Of the 50 richest Kazakhs, six are women, though all are related to powerful men -- two are daughters of Nazarbayev, one shared her ranking with her husband and another is the sister of a multimillionaire, according to Forbes magazine's local edition.
Losing Ground

"Fewer Kazakh girls would become tokals if there were more normal opportunities for advancement," Janar Jandosova, director of the Sange Research Center in the capital, Astana, said by phone. "We've done a lot to eradicate this, but we've lost ground very fast in the past few years," Jandosova said. "There is an endemic wish among women to improve their standing in society, and for too many of them the only option is to gain access to a man's finances."
Most tokals come from poor families and are pragmatic about their relationships, saving money for retirement or supporting relatives back home, Jandosova said.
Many of the woman were singers, dancers, TV presenters, nannies, housemaids or even friends of the men's daughters before becoming second wives, according to Kudaikulova, the socialite and author.
Some, though, are purely opportunistic, said Gulbahram Kurgulina, author of the best-selling novel, "Tokal." Gulbahram said she writes about polygamy to educate young women, to inspire them to be patient, not greedy.
'Satan Threatens'

"Satan threatens you with poverty and orders you to immorality," Kurgulina said in an interview in an Astana cafe. Whatever their motives for becoming a tokal, nearly all strive to keep their relationships secret to avoid financial reprisals from their patrons, according to Kurgulina.
Sholpan, 20, agreed to speak about her life as a tokal on the condition that her last name be withheld to protect her privacy, as did Samal the waitress.
Sholpan said she never thought she'd end up a tokal because she comes from a wealthy family. When her father took a woman about Sholpan's age as a second wife, Sholpan refused to show respect the way she honored her mother, including by bowing as her father demanded.
As a result, her father stopped giving her an allowance and paying her college tuition, saying it was time for her to find a rich man to marry. She also lost her boyfriend at the time after his mother demanded that he end the relationship because she no longer had a dowry.
Birkin Bag

Now, Sholpan's a tokal, driving a $53,000 Toyota Land Cruiser, carrying a $10,000 Hermes (RMS) Birkin bag and earning at least $5,000 a month. She's also been able to travel abroad and open her own trading business. Sholpan said she met her future husband when he jumped out of his car to invite her to tea when he saw her crossing the street. Sholpan's never met his first wife, and doesn't think she knows he has a second.
"All my friends tell me I have a Cinderella life," Sholpan said over lunch at a trendy restaurant in Almaty, wearing sunglasses and a headscarf to avoid being recognized. "I often spend $300 a day and have no idea where it went," she said. "My family supports me now, saying 'everyone gets to the top however they can.'"
While childbearing isn't part of Sholpan's job description, men often take second wives for that very purpose.
Anuarbek, a businessman in Almaty who asked that his surname not be used, said he and his wife decided to find a tokal to bear children because doctors told them that having a second baby would endanger her life. So, about three years ago, he married a 19-year-old village girl whom he met through her Islam instructor.
Love Lost

After throwing a party for about 150 people in his tokal's village, Anuarbek moved her to live with his parents in another community. The two wives meet occasionally and have a respectful relationship, Anuarbek said, adding that his junior wife lives a simple life and doesn't ask for luxury goods.
That's not quite the fairy tale Samal, the waitress, said she's dreaming about. Samal said she doesn't need expensive handbags or fancy cars -- but if she's going to give up looking for true love, it better be worth it.
"Every woman wants to be the first and only love for a man," Samal said. "But it's becoming increasingly difficult for me to struggle alone."
To contact the reporter on this story: Nariman Gizitdinov in Almaty at This email address is being protected from spambots. You need JavaScript enabled to view it.
To contact the editors responsible for this story: Paul Abelsky at This email address is being protected from spambots. You need JavaScript enabled to view it.; Stephen Voss at This email address is being protected from spambots. You need JavaScript enabled to view it.