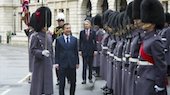 Kazakhstan is interested in British defense experience, Tengrinews reports referring to the press office of the Defense Ministry of Kazakhstan. "Kazakhstan is moving towards establishing a professional army, and Britain possesses valuable experience in this realm. Kazakhstan is interested in studying the methods of recruitment into the Armed Forces, personnel policies, combat training, budget planning specifics and social security. The heads of the Defense Ministries (of Kazakhstan and UK) have expressed readiness to cooperate in this areas," says the statement posted after the meeting of Kazakhstan Defense Minister Adilbek Dzhaksybekov and UK Minister of Defense Phillip Hammond.
During his meeting with heads of British defense enterprises, Dzhaksybekov noted that Kazakhstan was looking to reach self-sufficiency in the defense industry.
"At the meeting, they discussed the current situation and prospects of the further development of Kazakh-British military and military-technical cooperation. Kazakhstan and Great Britain are actively cooperating in peacekeeping and military education. Adilbek Dzhaksybekov and Philip Hammond addressed joint command and staff trainings of the countries' peacekeeping forces, along with the subsequent cooperation in warfare", the press-service reported.
Kazakhstan is interested in creating Kazakh-British joint enterprises, arranging transfer of technologies and localizing production of British military wares in Kazakhstan. "President Nursultan Nazarbayev puts a special emphasis on equipping the army with modern and high-tech arms and vehicles. That's why the development of the domestic military industry is one of the main priorities of the Defense Ministry," Minister Dzhaksybekov said.
Adilbek Dzhaksybekov also invited British defense companies to partake in the international exhibition of weapons systems and military equipment KADEX-2014 that will take place in Astana in May.
Tengrinews.kz