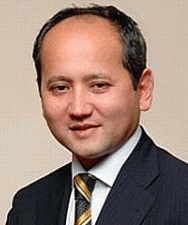 Russia has asked France to extradite Kazakh oligarch banker Mukhtar Ablyazov, accused of embezzling up to $6 billion from his former bank BTA, Russia's deputy prosecutor general was reported as saying Wednesday.
Ablyazov, 50, who had been in hiding since being handed a jail sentence for contempt of court by a British judge 18 months ago, was arrested near the Riviera resort of Cannes in July and has been in custody since.
"We have sent a request to the Ministry of Justice of France to extradite this so-called 'businessman' to Russia to be held criminally liable for fraud, money laundering and other crimes," deputy Alexander Zvyagintsev said, Rossiskaya Gazeta reported.
Russia, Kazakhstan and Ukraine brought charges against Ablyazov in 2009 after BTA, the bank he once controlled, was seized by Kazakh authorities and declared insolvent. BTA has Russian and Ukrainian subsidiaries.
Ablyazov, a former government minister in Kazakhstan, has denied the charges that he says were fabricated by Kazakh President Nursultan Nazarbayev to silence him as a political opponent. He cannot be extradited to Kazakhstan because it is not a member of the Council of Europe extradition convention.
French authorities arrested Ablyazov on a request from Ukraine, and on Aug. 1 he was told he was likely to be extradited there.
He is being held in the Aix-Luynes prison in the south of France and a hearing on his possible extradition to Ukraine is expected in September.
Ablyazov's lawyer Bruno Rebstock said his client had not yet been notified of Russia's extradition request. No one at the Russian Prosecutor General's Office could be reached from comment.
www.themoscowtimes.com