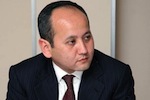 Three homes worth more than £41 million formerly owned by a billionaire fraudster are on the market after a High Court ruling. They include the £20 million Carlton House on Hampstead's "Billionaire's Row" and the 100-acre Oaklands Park estate near Egham in Surrey. Among the features are swimming pools, a helipad, a Turkish bath for 12 and a Thunderbirds-style car lift.
They are part of the £150 million property portfolio once owned in and around London by ex-Kazakhstan banker Mukhtar Ablyazov. He fled to London to claim asylum in 2009 after the BTA bank he had run collapsed with £11.8 billion debts.
The bank, together with creditors such as taxpayer-funded RBS, fought back by bringing £6 billion claims in the High Court. So far they have succeeded in securing £2.4 billion of Ablyazov's assets and proceedings are continuing to claw back more of his wealth.
Ablyazov is on the run to dodge a 22-month prison sentence imposed for contempt in trying to hide his vast fortune.
The High Court has now ordered the go-ahead for the receivers to put three of his homes up for sale.
Carlton House contains a 50ft-long ballroom, a kitchen big enough to cater for banquets, a cherrywood-panelled library and what is described as a "gentleman's library", as well as nine bedroom suites each fitted with Italian marble bathrooms.
The billionaire's family and guests have a choice of a sweeping oval staircase or a wood-panelled lift to reach the heated mosaic swimming pool, sauna, gym and Turkish bath.
Another highlight is a lift to take cars from the four-vehicle underground garage up to the forecourt.
This property was Ablyazov's favourite and was where the father-of-four lived with his family before becoming a fugitive.
Oaklands Park, at Englefield Green on the edge of Windsor Great Park, is also worth an estimated £20 million.
It was formerly owned by US computer billionaire Michael Dell before Ablyazov's companies snapped it up.
Apart from the stunning scenery over an arboretum, lakes and woodlands, the estate has eight houses, tennis courts and a helipad.
The third property, although outwardly more modest, is particularly handy for cricket lovers, situated just a few minutes from Lord's Cricket ground.
The £1 million apartment in Albert's Court, St John's Wood, is in a gated development close to Marylebone station with 24-hour porterage, and use of a communal gym, swimming pool and underground parking.
Pavel Prosyankin of BTA bank who is overseeing the asset recovery process, said: "This (High Court) order is another important step forward in the bank's effort to recover the billions of dollars in assets which Mr Ablyazov misappropriated. We can now move to liquidate these assets. The bank will continue to leverage the English High Court judgments to pursue assets across the globe."
Evening Standard