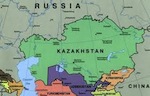 State seeks bailed-out bank sales; mooted deals get mixed reception. Four years after being nationalized and restructured by the Kazakh government, a trio of troubled Kazakh lenders are eyeing a return to private-sector control.
After the 2007 and 2008 financial crisis, BTA, Alliance and Temirbank were absorbed into the country's sovereign wealth fund, Samruk-Kazyna. The fund then restructured $20 billion in combined debt, including cutting the external debt of BTA from $9 billion to $650 million.
Now the government has decided the time is right to release all three back into the wild. In January, Kazakh president Nursultan Nazarbayev ordered the state to sell them all by the end of 2013.
Three days later, Samruk deputy chief executive Yelena Bakhmutova pledged that any viable investor could buy any of the three. The trouble is, few viable acquirers have come forward. So far, the most visible suitor is Bulat Utemuratov, a local billionaire understood to be looking at buying state-owned lenders, Temirbank and Alliance Bank, via his private equity fund, Verny Investment Holding. The two could then be merged, to create a single unit worth up to $1 billion, according to comments by Alliance CEO Maksat Kabashev on April 3.
Utemuratov's plans clearly gel with the government's. Samruk has publicly countenanced a merger of Temirbank and Alliance, respectively the country's eighth- and 13th-largest lenders. And Utemuratov has experience in the sector, having shot into the super-rich leagues after selling local Kazakh lender ATF Bank to Italy's UniCredit for $2.1 billion six years ago.
Jason Hurwitz, a financial analyst at Alfa Bank in Moscow, believes Utemuratov would make a good buyer, noting that a merger of the two banks would indeed be the most logical outcome. Utemuratov also controls two minor local lenders, Forte Bank and Kassa Nova Bank, with combined assets of T80 billion ($530 million).
Other deals are also brewing in Kazakhstan's financial capital, Almaty, notably UniCredit's sale of ATF for $550 million to Galimzhan Yesenov, the son-in-law of Almaty mayor Akhmetzhan Yesenov.
Then there is the possible acquisition of BTA by Halyk Bank, a deal that has not been welcomed by the market. In recent years, Halyk Bank has transformed itself into the country's most profitable and, some say, best-run lender. By contrast, many retain doubts about asset quality at BTA and raise the possibility that previously soured loans might continue to weigh on its balance sheet.
Yet the deal might happen, and sooner rather than later. On March 27, Halyk chairwoman Umut Shayakhmetova informed her board that Samruk had made a formal offer for an asset swap. A portion of BTA's shares would be absorbed by Halyk, which would in turn hand ownership of its pension fund to Samruk. To Samruk, such a deal could make sense.
Samruk is thought to have long coveted the creation of a single national pension fund. Halyk Bank Pension Fund is the most profitable of its kind. But Alfa Bank's Hurwitz questions whether state pressure would have to be brought to bear if Halyk is to accept the deal.
For her part, Shayakhmetova (who declined to comment on the sale) called on the government last year to scrap BTA's protracted restructuring. She dismissed the lender's systemic irrelevancy. Adapting a German proverb, she stated pointedly that: "A horrible end is better than horror without end."
For sure, none of these deals will be a shoo-in. Even a merger of Temirbank and Alliance won't be easy. On April 23, Annette Ess, a credit analyst at Standard & Poor's, predicted that Kazakhstan's authorities were unlikely to complete the sale this year.
Marcia Favale-Tarter is an adviser to Kazakhstan premier Serik Akhmetov. She pioneered BTA's restructuring. According to Favale-Tarter, there is "no hard set of deadlines" on the sale of BTA. "The role of the government is to ensure that the best partner [for BTA] is found that benefits banking sector stability and all shareholders," she says.
Yet sources close to the lender feel slightly differently: if Samruk insists on the sale of BTA to Halyk, they say, the latter might feel bound to absorb its much-diminished and possibly still-troubled peer. Worse, any such deal might hinder Halyk's reputation, as well as its financial prospects.
S&P's Ess even warned that a merger with BTA would increase the likelihood that Halyk would require state support further down the line. She added that Halyk, burdened by the "addition of heavy problem debts" could see its "risk position worsen" after the merger.