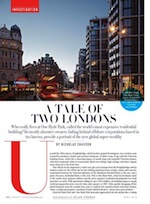 In an April Vanity Fair article which also investigates the complicated reasons why London has become a tax haven for the world's mega-rich, Nicholas Shaxson reveals just who owns what in London's One Hyde Park, the apartment building built by two British brothers, Nick and Christian Candy, together with Waterknights, the international property-development company owned by Qatar's prime minister, Sheikh Hamad bin Jassim al-Thani, where apartments go for nearly $12,000 per square foot.
Shaxson concludes that we know two things for sure about the tenants of One Hyde Park: "they are extremely wealthy, and most of them don't want you to know who they are and how they got their money."
Shaxson's research reveals the following names of apartment (and multi-apartment) buyers:

Anar Aitzhanova: this may be a Kazakh singer, who did not respond to Vanity Fair's queries.
Irina Viktorovna Kharitonina and Viktor Kharitonin. The latter is likely to be a co-owner of Russia's largest domestic drugmaker, though the couple's representatives also failed to reply.
Rory Carvill, a British insurance broker.
Bassim Haidar, who appears to be the founder and C.E.O. of Channel IT, a Nigeria-based telecommunications company, and who also did not respond to queries.
Karmen Pretel-Martines, who could not be further identified
A Beijing-registered buyer named Kin Hung Kei.
Nick Candy himself owns an 11th-floor duplex penthouse.
Seven other apartments are believed to be owned by members of the Project Grande consortium, which is behind One Hyde Park. (The Candys will not confirm or deny this.)
The best apartment of all—a triplex on Floors 11, 12, and 13 of Tower C—is owned (via a Cayman company) by Sheikh Hamad bin Jassim al-Thani, of Qatar, Project Grande's partner.
Rinat Akhmetov, the Ukraine's richest man, with an estimated personal net worth of $16 billion.
Vladimir Kim, who chairs the London-listed Kazakh copper giant Kazakhmys P.L.C.
Sheikh Mohammed Saud Sultan Al Qasimi, head of finance for the government of Sharjah, bought an $18.1 million apartment.
Russian real-estate magnate Vladislav Doronin, who is dating model Naomi Campbell.
www.vanityfair.com