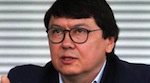 German intelligence service is interested in the former ambassador of Kazakhstan to Austria Rakhat Aliyev, Malta Today writes. Such information emerged in the parliamentary requests of the German Green Party's MP Viola von Cramon to German Chancellor Angela Merkel. According to the source, the deputy gained access to secret documents under condition of confidentiality.
In her response Merkel said that the information on Aliyev was part of a "successful" operation of German intelligence service and its publication would be deleterious to its source. Nevertheless, the deputy will get a chance to read the documents in the non-disclosed location in German parliament.
Aliyev is also being investigated by Austrian public prosecutors on alleged murder of two bankers in Kazakhstan for which Aliyev has already been sentenced by Kazakhstan court. Austria refused to extradite Aliyev. He now lives in Malta, where he has benefited from tax exile rules under the permanent residency scheme by purchasing an apartment in Fort Cambridge. However, he had a conflict with the registered director of Fort Cambridge Pio Valletta. Aliyev accused him of demanding 1.5 million Euro for assistance to procure the residence status for Aliyev. Earlier Valletta helped Aliyev's wife transfer 2.4 million Euro from an Austrian company to the accounts of A & P Power Maltese company and another company registered in the Caribbean.
Earlier Prime Minister of Malta Lawrence Gonzi has called all witnesses of the crimes committed by Rakhat Aliyev to present proof of such to police investigators. This is what Prime-Minister wrote in the official response to MP Arnold Cassola from the Green Party. In his request the deputy asked about the measures taken by the authorities on allegations against Aliyev who is accused of crimes against humanity and of using Malta as a base for money laundering.
Former Kazakhstan Prime-Minister Akezhan Kazhegeldin and two of his bodyguards are insisting that an investigation should be held by Maltese law-enforcement authorities on the allegations against Aliyev. In particular, Kazhegeldin's bodyguards state that they were tortured in a bid to force a confession on Aliyev's order, who served as the chairman of Kazakhstan National Security Commission back in 2000. In the beginning of last November Kazhegeldin applied to Maltese court with a complaint against nonfeasance of the local police that refused to investigate allegations against Rakhat Aliyev. The hearings on this case are still in process.
Tengrinews.kz