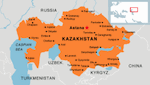 An arrest warrant has been issued for Bergei Rysqaliev, the former governor of Kazakhstan's western Atyrau Province.
Kazakhstan's Agency for the Fight against Corruption and Economic Crimes announced on January 28 that Rysqaliev has been charged in absentia with abuse of office and embezzlement.
The arrest warrant was issued on January 27.
Rysqaliev, 46, resigned from his post in August of last year after an investigation was launched into allegations of financial misdeeds by local officials.
Nine of the province's former top officials have been arrested.
Six are under house arrest, one has been banned from leaving Atyrau, and the whereabouts of 12 other suspects -- including Rysqaliev and his brother Amanzhan -- are unknown.
Atyrau is an energy-rich region of Kazakhstan and a major source of the country's revenues.
Based on reporting by Kazinform and forbes.kz

Radio Free Europe/Radio Liberty