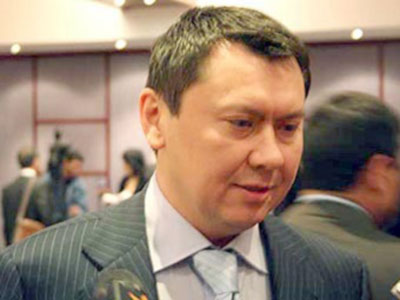 A lawyer representing Rakhat Aliyev has denied that his client is on the run.
Manfred Ainedter stressed today (Weds) that the former Kazakh ambassador to Vienna intended to cooperate with authorities. "He is not on the run because he didn't do anything wrong," Ainedter said, adding that Aliyev felt haunted by the regime of his homeland.
The ex-deputy head of the Kazakh tax authority is accused of ordering the killing of two men in 2007. The bodies of the bankers were discovered only recently. The men worked for Nurbank, an institute the defendant held a majority interest in. Aliyev fled to Austria to seek political asylum in the country in 2007. He has left the Alpine state in the meantime. "I wanted to spare the country any further trouble," he told magazine profil last month.
Reports have it that Aliyev is currently in Southern Europe. Some newspapers allege that he is hiding in Malta. The man who had been married to the daughter of Kazakh President Nursultan Nazarbayev for 25 years accuses the autocratic leader of "really being a killer."
"I'm neither a kidnapper nor a murderer. I'm accused of crimes I did not carry out. (...) I haven't got the least thing to do with the deaths of these men," he said speaking to profil.
Aliyev claimed Nazarbayev accused him of having been a spy working for the United States and Austria. "This is utterly absurd," he said. Aliyev said he was representing the suppressed opposition movement in his home country now. "People are sick of the regime. Twenty years are enough," he told profil.
State prosecutors in Vienna announced on Monday they started investigating against Aliyev – months after the legal team of the widows of the killed bank managers called on them to do so. Aliyev could face a trial for abduction and homicide. When being informed about the most recent developments, Aliyev's lawyer pointed out it needed to be clarified whether he could be prosecuted for the crimes he was accused of in Austria since they allegedly took place in Kazakhstan.
Viennese prosecutors explained they would decide by next week whether to file only kidnapping charges against Aliyev or bring him to court for murder as well. The Republic of Austria has rejected two extradition appeals by the Kazakh leadership since 2007, citing concerns that fair court proceedings were unlikely.
Austrian Times