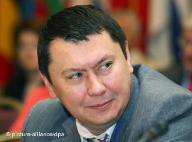 A former banker and diplomat faces murder investigations in Austria, it has emerged.
The federal justice ministry – which is headed by Beatrix Karl of the conservative People's Party (ÖVP) – announced yesterday (Mon) that state prosecutors started investigating against Rakhat Aliyev. The ex-deputy foreign minister of Kazakhstan fled to Austria in 2007 when state leaders accused him of masterminding the killing of two bank managers. The Austrian government and judicial authorities rejected two appeals for extradition of Aliyev issued by Kazakhstan, claiming that he could not expect a fair trial in his homeland.
Now prosecutors have started dealing with the case against Aliyev who was married to the daughter of Kazakh President Nursultan Nazarbayev for 25 years. Aliyev - who once held a majority stake in Kazakh bank Nurbank - could also face charges for extortion and abduction, state prosecutors said. His lawyer Manfred Ainedter – one of the best known Austrian advocates – refused to comment on the most recent developments apart from pointing out that it had to be seen whether his client could be charged for such offences in Austria considering that they allegedly occurred in Kazakhstan.
The widows of the killed Nurbank bankers – whose bodies were discovered recently – are legally represented by Gabriel Lansky. The advocate runs a law firm in Vienna in cooperation with Gerald Ganzger who has worked for Natascha Kampusch. The young woman was kidnapped at the age of 10 on her way to school in 1998. She managed to escape from paedophile Wolfgang Priklopil's house in Strasshof an der Nordbahn, Lower Austria, in 2006.
Aliyev – who has left Austria in the meantime and refuses to reveal his whereabouts due to murder threats against him – lashed out at Nazarbayev in a recent interview. "Nazarbayev really is a killer. He wants to discredit me to silence the voice of the (Kazakh) opposition. You must not have an own opinion in Kazakhstan. The president brands members of the opposition as criminals – or ensures that they get killed," Aliyev told Austrian magazine profil last month.
The former Kazakh ambassador to Vienna said he did not deny having been part of the political and family clan of Nazarbayev for some time. Aliyev stressed he was now representing opposition forces. "I decided to fight the president actively and in the media when he ensured to remain in office for the rest of his life by legislation in 2007," he said.
Aliyev said he saw a chance that calls for democracy could soon be heard from his home country. "What has been happening in the Arab region may also occur in Kazakhstan," he told profil, adding that the regime in the country was acting "inhuman and cruel."
Asked why he chose Austria for temporary asylum four years ago, the former head of tax authorities in Kazakhstan said he opted for a country which did not have considerable economic relations with his homeland. "I decided to leave Austria to spare the country any further trouble," he said speaking to profil using internet phone services provider Skype.
Aliyev confirmed speculations that he wanted to run for president in Kazakhstan one day. "Changes in the country are possible. You cannot keep 16 million people like sheep permanently," he said.
Austrian Times