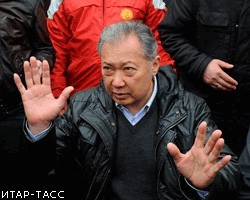 Bakiyev said Russia is anger over his decision to keep open U.S. air base
Kyrgyzstan's interim government said on Tuesday it has ordered prosecutors to seek the extradition of former president Kurmanbek Bakiyev, who was ousted in a violent revolt last month.
Bakiyev remains in Belarus where he fled after the turmoil.
"The prosecutor general's office must take necessary measures to criminally prosecute Bakiyev and have him extradited to Kyrgyzstan," it said in a decree.
The interim government, made up of Bakiyev's opponents, has accused him of mass murder over the April 7-8 clashes in which 85 died and hundreds were injured when protesters clashed with police.
Bakiyev has said Russia's anger over his decision to keep open a U.S. air base in the Central Asian state had played a role in his removal from power. Russia has denied any involvement.
The U.S. base, Manas, is used to support operations in Afghanistan.
(Reporting by Olga Dzyubenko; Writing by Olzhas Auyezov)
Reuters US Online Report World News