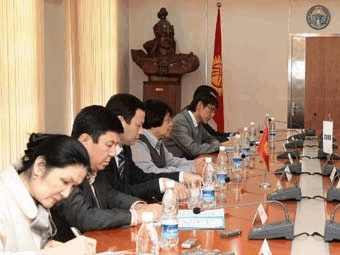 Kyrgyzstan's interim government said Tuesday it had launched a criminal inquiry into firms supplying fuel to the U.S. air base in the Central Asian nation, which prosecutors say belong to the family of its ousted leader.
Deposed President Kurmanbek Bakiyev left the country last month after a violent revolt which killed dozens when protesters clashed with police and stormed government buildings. He fled to Belarus where he remains.
Fuel supply contracts for the Manas air base, which plays a key role in supporting the war in Afghanistan, have provoked scorn from Kyrgyzstan's new leaders, who say the Bakiyev family profited unfairly from such deals.
"A criminal case has been launched against Maksim Bakiyev (Bakiyev's son)," said Ulan Diykanbayev, a spokesman for the prosecutor general's office. His whereabouts were not known.
He added that the companies in question had failed to pay customs duties on fuel they imported from Russia.
A spokesman for the interim government, Farid Niyazov, said the U.S. Senate is carrying out its own investigation, but declined to give more details.
U.S. President Barack Obama's adviser on Russia and Eurasia, who was in Bishkek Tuesday to meet the head of interim government Roza Otunbayeva, ruled out corruption at Manas.
"I've read lots of stories about black holes and corruption and things that happened. They are not... true," Michael McFaul told reporters adding that the U.S. would make public all payments it had made to Kyrgyzstan and local companies.
Bakiyev threatened to shut Manas down last year but agreed to extend the lease after the United States offered to raise the annual fee to $60 million a year. McFaul said Tuesday a quarterly tranche of $15 million would be wired this week.
Russia, which backs the new government, has long dreamed of evicting the United States from ex-Soviet Central Asia, which it still views as its traditional sphere of influence.
Monday, Kyrgyzstan placed rewards of up to $100,000 on Maksim and three brothers of Bakiyev for "grave crimes," following formally charging the ousted leader in absentia a week ago for a massacre.
Government spokesman Niyazov said main Manas suppliers Red Star Enterprises Limited and Mina Corp Limited had both registered abroad and continue to operate.
"But the probe is ongoing and when it is over law enforcement bodies will make their suggestions and we do not rule out that (Manas) will be recommended to switch suppliers," Niyazov said.
After the April 7 turmoil, Bakiyev said Russia might have played a role in removing him from power, although Moscow has denied involvement.
(Writing by Olzhas Auyezov; Editing by Charles Dick)
Reuters US Online Report Politics News
May 04, 2010