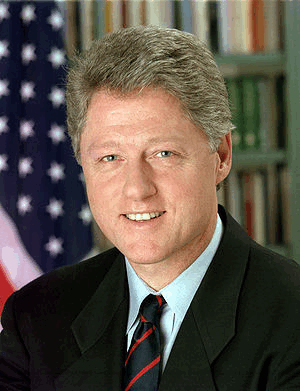 An adviser to former president Bill Clinton intervened in 2005 to help win Kazakh approval of a uranium mining deal benefiting a major donor to the Clinton Foundation, according to a video statement made by the former chief of Kazakhstan's state nuclear firm.
The executive, Mukhtar Dzhakishev, who was arrested last year on corruption charges that he has denied, described the deal as "a financing mechanism of the Democratic Party" and said a Clinton adviser named Tim Phillips championed it in meetings with him and other officials.
The statement is the first confirmation by a Kazakh official that a member of Clinton's staff lobbied the government on behalf of Canadian mining financier Frank Giustra, who purchased stakes in three Kazakh uranium deposits that he later sold for a huge profit.
The deal came under scrutiny in the 2008 U.S. presidential campaign after the New York Times reported Giustra donated $31 million to the Clinton Foundation after he and Clinton visited Kazakhstan in September 2005. Critics accused Clinton of improperly using his influence and lending his prestige to an authoritarian government to help a donor.
At the time, Clinton denied taking any action to support Giustra's purchase. Giustra also said Clinton played no role in the deal and rejected any link between the deal and his Clinton Foundation donations.
But in the leaked video of him speaking to the authorities, Dzhakishev said a senior Kazakh official told him to look into the deal after then-Sen. Hillary Clinton canceled a meeting with him. Dzhakishev said he was told that "investors who currently work in Kazakhstan and have ties to Clinton have problems and meetings will be resumed only after Kazakhstan resolves the problems."
"I called them, and they came. I met them in Astana and then Clinton's aide, Tim Phillips, began to scream that this deal involves Democrats and is financed by them, and that we were hampering the deal," Dzhakishev said.
Timothy Phillips, a visiting lecturer at Tufts University and the co-chair of a conflict-resolution project there, served as a senior adviser to the Clinton Foundation, according to the project's Web site, which has been edited to remove the reference to the Clinton Foundation. A Clinton spokesman said Phillips had served as a fundraising consultant to the foundation.
Phillips did not respond to phone calls.
Dzhakishev said he took Phillips to see other Kazakh officials, including Karim Masimov, now the prime minister, and the problem holding up Giustra's deal was resolved.
The government had just adopted a law giving it the right to block the sale of natural resources between private parties, and Giustra's underwriters wanted a waiver stating it would not block his purchase. The minister of energy agreed to issue one, Dzhakishev said.
Dzhakishev said he has since been accused of forging the waiver and has not been allowed call witnesses to prove his innocence.
In a portion of the video that could cast doubt on his account, Dzhakishev misstated the size of Giustra's donation, saying it was $300 million, and voiced vague suspicions of a scheme to manipulate world uranium prices.
Giustra did not return phone calls. A Clinton spokesman declined to comment on Dzhakishev's statement.
www.washingtonpost.com