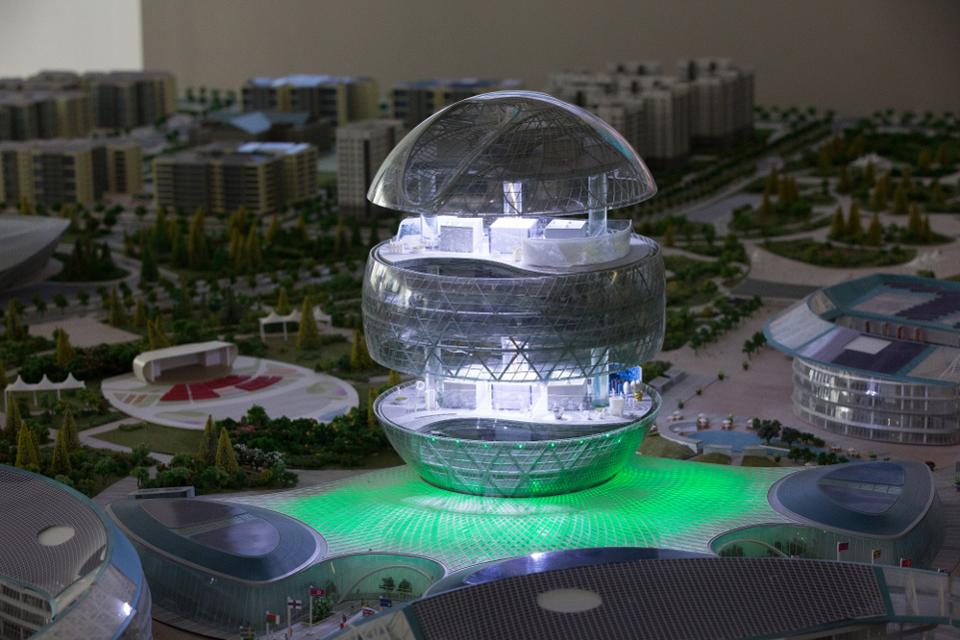 At first glance, Kazakhstan's new financial center is an exercise in ambition. Built out of the infrastructure of a futuristic, Epcot Center-like World Expo venue, the Astana International Financial Center at least doesn't have to put in new wiring. It has everything. It wants to be everything, too.
It will take at least a decade before anyone really knows if they succeeded. The project goes live on July 5.
The Astana International Financial Center (AIFC) is the brainchild of Nursultan Nazarbayev, Kazakhstan's long-serving president. He's been around since the days of the Soviet Union. To everyone with money at work there, his government's reformist ideas are welcome and forward-thinking.
The AIFC is like a country within a country, modeled on Singapore and Dubai centers that have English as the main language, U.K. securities and corporate law, visa and tax waivers (though not tax-free) for global financial players to set up shop, and maybe an experiment with blockchain and cryptocurrencies while they are at it.
To observers, the AIFC is also Chinese big thinking, whereas you build something out of nothing and eventually create demand. But if you build Kazakhstan's Field of Dreams, will the people come? Astana's population is around one million. Shanghai has 24 million alone and is located in the second-largest economy in the world.
Kazakhstan's neighbors lack what it has—a strong track record of economic reforms. Within the former Soviet 'Stans, Kazakhstanis a standout. It looks to its north and sees Russia still mired in one-trick-pony economics: extraction industries. It looks to its south and sees Uzbekistan just barely breaking out of the eggshell of isolation imposed by its authoritarian former ruler Islam Karimov, who died in September 2016. It looks east and sees China selling its One Belt One Road Initiative, a strategic, capital-intensive campaign that includes investments in Kazakhstan.
For Nazarbayev why not kill two birds with one stone: build on China's westward-ho expansion, while preparing this relatively young country for a technologically advanced economy? Why not build a twenty-first-century nation, rather than make it obsolete, dependent on digging stuff out of the ground merely to keep the lights on?
"This is something that was never tried before in Kazakhstan," says Kairat Kelimbetov, Kazakhstan's central banker between 2013 and 2015 and the former manager for Kazakhstan's $78 billion sovereign wealth fund, Samruk Kazyna. "It is true that financial-center initiative is not new, because Almaty tried to develop the industry and become a regional center in 2004," he says about Kazakhstan's largest city and cultural hub dating back to the Russian Czars. Back then, Kazakhstan faced the problem of establishing new institutions on the laws of existing ones. Plus, it had "retrograde infrastructure. It didn't work out," says Kelimbetov.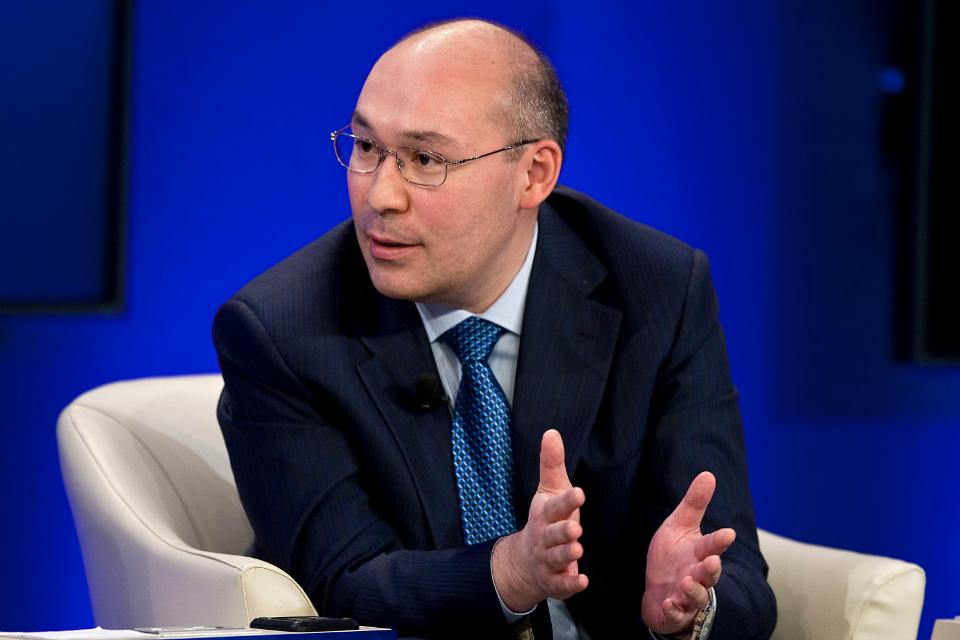 A World Economic Forum fixture, Kairat Kelimbetov is the ex-fund manager behind KZ's Samruk-Kazyna sovereign wealth fund. His fund owned most of the A-list state-controlled enterprises; enterprises he believes the government will privatize and list on a new stock exchange in Astana. Kelimbetov is the director at AIFC. Photographer: Tomohiro Ohsumi/Bloomberg.

Almaty's stock exchange is virtually nonexistent. There is no secondary market. Commercial banks, mostly all state-owned, control the bulk of trade in forex and forex derivatives. Kelimbetov will let Almaty have that market. They're building something new, he says.
For instance, the sovereign wealth fund he ran is majority owner in at least 23 companies. The idea is to open those up to the market. The new exchange, AIX, is being built in partnership with Nasdaq and the Shanghai Stock Exchange.
"For us, it is more rational to follow the example of successful Dubai International Financial Center or Abu Dhabi Global Markets and create a new platform based on that, from scratch," he says. "We see a perfect window of opportunity."
For the securities side, AIFC is creating its own version of the Securities and Exchange Commission—the Astana Financial Services Authority, which will be regulating financial institutions inside. Regulatory framework will be based on the best international practices and will be written from scratch, rather than based on Almaty rules, according to the authority's own description.
"The idea is to engage global experts, build up the system and transfer the expertise," Kelimbetov says. "We would need to rely on external experts in the short and medium-term. We will compete on the global labor market for the best of the best. It will be a challenge, I know."
Venture capital investor Tim Draper mentioned Kazakhstan during a talk at a blockchain economic forum in San Francisco recently. He actually put it in the same league as Estonia, countries that are making it easier to invest and transfer wealth and become residents. "They're starting a virtual government there. You're going to start seeing these governments compete for all of us. They will be able to provide better safety nets, better taxation, better insurance … ."
Gregory Klumov, CEO of a new Russian startup venture in the crypto space, called STASIS, set up shop inside the AIFC. "Competition among governments for taxable profits from crypto industry will drive market adoption globally," he says. STASIS' corporate headquarters are in Malta. Astana is its No. 2 hub.
The problem with AIFC is not in the idea but in its location, global money managers say. It needs to attract many companies to be viable.
"Do you really want to go to Astana to live and work?" says Arent Thijsen, a fund manager with Blauwtulp in The Netherlands and a Kazakhstan equity investor. "Maybe a tax-free zone can be helpful. But also they have to work on building an attractive environment to live. Top-notch restaurants, clubs and museums," he says.
According to a May 2016 development strategy report by the AIFC, they want to introduce some tax exemptions for participants for 50 years, a simplified visa and employment regime, and connect Astana to key financial hubs nearby via direct flights.
It seems obvious that the country's leadership is not just thinking of wooing Londoners and Russians to live there. President Nazarbayev is also thinking of Kazakhs from the urban centers are well educated in the sciences and in mathematics. He doesn't want to lose them to Russia or China.
The average age in Kazakhstan is 29, roughly the same as India. The population is younger than in all the BRIC countries. But consider places like Mexico, where the average age is around 27. Where is their talk about becoming a financial hub or a tech hub for anything? Mexico is glued to the fortunes of the U.S. Kazakhstan has been glued to the fortunes of oil. For the last several years, they have wanted to build a new world for themselves. AIFC is the embodiment of that.
During the first 10 years of the 21st century, Kazakhstan was the second-fastest growing economy in the world after Qatar. Frontier and emerging-market fund managers loved it, mainly for its oil and gas.
"We are rebooting," says Kelimbetov. "We are trying to build a global city."
If Astana ends up just being a global city for Kazakhs with a decent amount of foreign capital at work inside, then they might be able to chalk it all up as a success story. If AIFC lives up to its hopes, and who is to say that it will not, then that's an achievement for anyone, including expats, working in this Epcot-like futuristic city center.
"When I was in Astana last month, bankers told me they are skeptical because there are deeper underlying problems they'd like to see addressed rather than some glamorous project," says Zach Witlin, Kazakhstan analyst with the Eurasia Group. "Sure you can ding Kazakhstan for that. But I would say that they are on the right path."
Forbes.Com, JUN 26, 2018